Sunbeams am
Welcome to the homepage for Sunbeams am!
12.7.18
Nursery Graduation
Congratulations to all of Sunbeams AM on their graduation today. All of the teachers are so proud of you all and how you have grown ( in height !) and in your confidence and ability during the year. We wish you all well.
5.7.18
Visit to the Nature Centre
Today we went to visit the Birmingham Wildlife Conservation Park. We saw lots of different animals including wallabies, snakes, a komodo dragon and otters. It was very hot but the children had some energy left to play in the playground.
29.6.18
Growing
This week we have been planting different seeds. First of all we planted nasturtium seeds in the secret garden and on Thursday we planted cress seeds. If you don't have a garden you could do as we did and use old egg cartons as a container and a piece of cotton wool to be the soil. Sprinkle cress seeds onto the top and water. We will let you know how they grow. We also read the story of The enormous watermelon and had water melon for a snack..yum.
22.6.18
Well what a busy week. We began on Monday by celebrating Eid with games and a party. The children looked wonderful in their Eid clothes. On Tuesday we made fruit salad to make sure we used the fruit we had been given and on Thursday Mo from ' Animals in Hands ' came into school.
We saw a snake, a tortoise, a chicken- some children could give her some food- we found out that she likes sweetcorn, a guinea pig- children could brush its fur and last but not least a tarantula.
Many children were confident enough to hold and stroke the different animals and we all got to see them close up.
15.6.18
Eid Mubarak
Eid Mubarak to all our families celebrating Eid this weekend. We have been talking about the festival of Eid this week and were able to visit a local mosque on Monday. This was also part of our work around Diversity.
We hope you enjoyed seeing the work the children put into making cards this week to celebrate Eid and Father's Day.
25.5.18
Diversity Week
This week we have been talking about similarities and differences between ourselves and others.
We also read the story of Elmer the elephant by David McKee. This is a story about an elephant who is very different. You can find the story at https://www.youtube.com/watch?v=BSo9fQmpZs0
18.5.18
Wedding fever
This week we have been preparing for the wedding of Prince Harry and Meghan. We have been talking about weddings and the children's experiences of weddings. Decorating the nursery with banners and our hands with mehndi patterns.
Preparing food for parties and eating it ! We also read the story of Cinderella to find out about princes and princesses. https://www.youtube.com/watch?v=8jjcK4W1vUE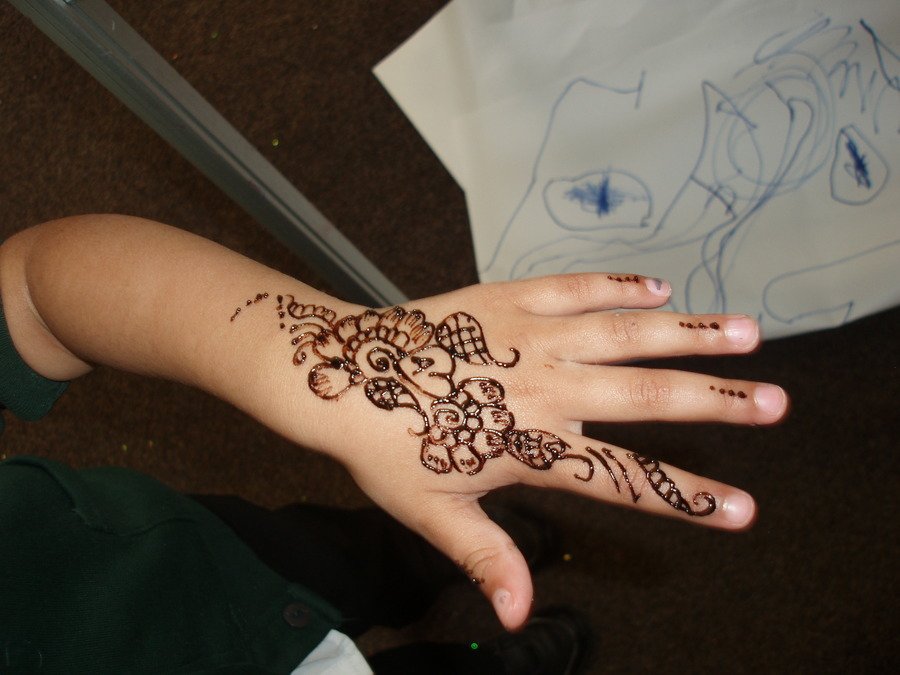 4.5.18
Parental conferences
This week we were pleased to be able to talk with so many of our parents and to share with you how your children are doing in nursery. We also started reading the story ' Dear Zoo' by Rod Campbell. There are two versions on You tube but this one includes some questions at the end https://www.youtube.com/watch?v=XoA-3e1Jb10
We hope you will enjoy sharing this story with your child. Next week we shall be writing letters to the zoo, asking for a pet. What would your child choose?
27.4.18
Living Eggs
We have enjoyed visiting the Living Eggs during the last two weeks. On Tuesday last week we just saw eggs and this week we could watch the chicks growing bigger each day. The children have been talking about what they have been seeing and are good at using the words 'hatch' and 'incubator' when they talk.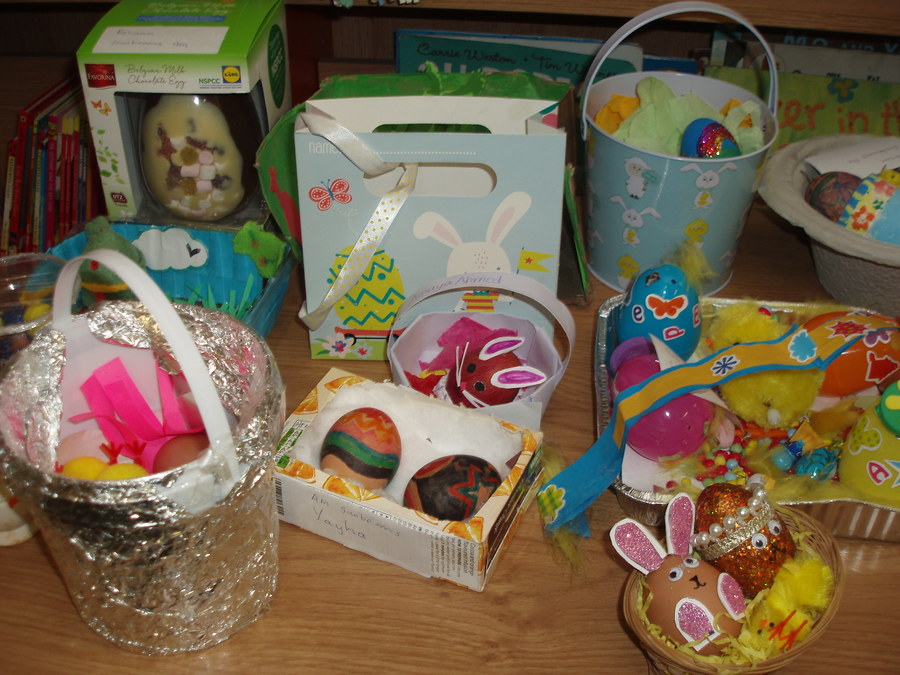 30.3.18
Easter Celebrations
This week we have been busy making baskets for our Easter eggs and Easter bonnets. We hope you liked seeing your child in their hat. Many of our children had also been busy at home decorating eggs for the school's Easter egg competition. Well done to all who took part. Next half term we shall look forward to seeing real eggs and chicks when the Living Eggs will be in school. Until then we wish all of our families a restful and enjoyable holiday.
23.3.18
Fruit salad
This week we have been focusing on learning about fruit and vegetables. We visited a local shop to look at the different fruit and vegetables. Then we bought some to use when we made a fruit salad. All the children enjoyed chopping the fruit up and then eating it during fruit and milk time. Yum !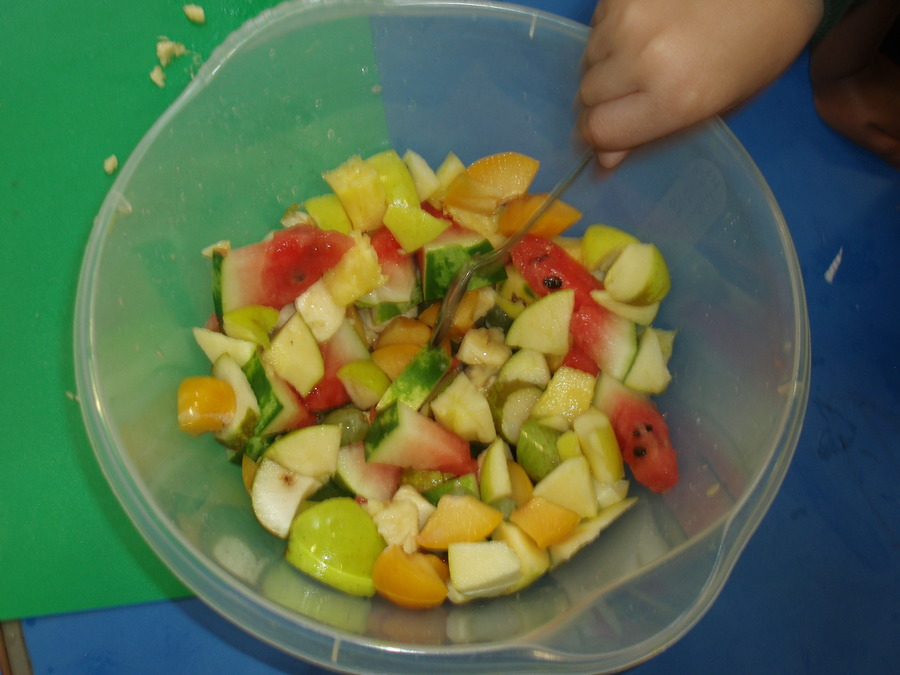 16.3.18
Dinosaurs
This week we have gone dinosaur mad, playing with model dinosaurs, painting dinosaurs, being dinosaurs, singing about them. We even made dinosaur playdough !. We did learn a new song about prepositions- the words on, in, under and by which can be found here https://www.youtube.com/watch?v=_Ir0Mc6Qilo
The children loved it.
9.3.18
This week we have been very busy making something very special.........all we can say is Happy Mother's Day to all our mums !
2.3.18
Snow
After a week dominated by snow we would like to share a story that we showed the children. Kipper's Snowy Day @ https://www.youtube.com/watch?v=Ig51v40wHi0. Next week we should find out what happens when snow melts !
16.2.18
Celebrations
After a disrupted start to the week we were pleased to be able to open the Nursery to the children. On Thursday we made cakes. The children enjoyed mixing and stirring the ingredients together and we hope, enjoyed eating their cakes later. If you would like to have a go at home Ms Farooque provided the recipe and it is attached. On Friday we celebrated Chinese New Year. All the nursery teachers wish you all a restful half term.
Ms Farooque's recipe for successful cup cakes. Makes about 16 cakes
Ingredients
200 grams margarine
200 grams sugar
200 grams flour
3 eggs
1 dessert spoon of baking powder.
Method
1. Mix together the margarine and sugar
2. Beat the eggs well and add to the margarine and sugar
3. Stir the baking powder into the flour and add to the mixture
4. Spoon the mixture into cup cake cases (about a dessert spoon full)
5. Cook for about 15-20 minutes at 150 C.
6. Decorate if wished and enjoy!
9.2.18
Parental Conferences and Safer Internet Day
This week we have welcomed parents into Nursery to look at their child's work and to talk to the teachers. We hope you enjoyed finding out how they are getting on.

As part of Safer Internet Day activities were held across the school, Nursery made a Kindness Tree. The idea is that we celebrate the kindnesses that are seen in Nursery each day. Teachers and children talk about who has been kind and how they have been kind and a leaf is added to the tree. We will continue with this for a while. If parents see their child being kind at home please let us know and we can add that to our tree as well.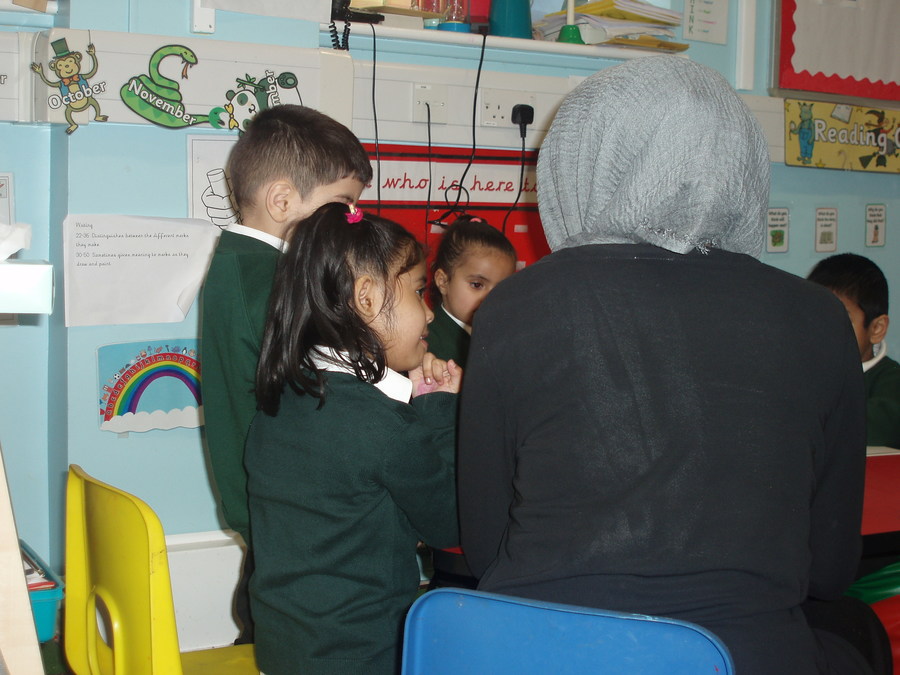 2.2.18
National Storytelling Week
This week it has been National Storytelling Week. We celebrated in Nursery by reading the story of Goldilocks and then learning a song based on the story. You can find the song on Youtube @ https://www.youtube.com/watch?v=AIhJrac-1eg.
We also invited parents into Nursery to read with their child. We were pleased to see so many Mums and Dads as well as younger brothers and sisters and hope you enjoyed some time to read with your child.
26.1.18
A busy week.
This week we have had a busy week, writing and talking about the caterpillar books we have been reading. Beginning P.E. lessons in the main school hall. Making flowers for the flower shop and learning about the similarities and differences that we have. Children were able to say that they had the same jumpers and that they had different hairstyles.
Next week we look forward to seeing many parents, as you are invited to come into Nursery to share some books with your child. Grandma's and Grandpa's are also welcome! This takes place on Thursday 1st February at 11am. We look forward to seeing you on that day.
19.1.18
Food tasting.
This week we have been reading, writing and drawing the story of The Hungry Caterpillar. The children were able to taste some of the food that the caterpillar ate and could say which was their favourite . Chocolate cake was very popular and they did enjoy the watermelon!
Next week we will be reading another story about a caterpillar called The Munching Crunching Caterpillar written by Sheridan Cain. Again you can find a copy on Youtube.
12.1.18
Welcome back
Welcome back to the new term. Spring 1. This half term our theme is Colour. We are beginning by reading the story of The Hungry Caterpillar by Eric Carle. You can find the story on Youtube at this address https://www.youtube.com/watch?v=75NQK-Sm1YY
4.12.17
Investigating
This week the children have been investigating different materials. They looked especially at ice and and shaving foam. Lots of the children could talk about what they could feel. We used words like soft, hard, smooth and icy. We talked about how ice is made and what will happen to it.
24.11.17
Explorers
This week the children have enjoyed being explorers in the outside play area. They have used the tent, played with torches and binoculars, packed their rucksacs and made their dinner.
Some of them even found a bear !
15.11.17
Making playdough
This week the children made playdough in their family groups.
First of all we named the ingredients on the table, then we predicted what we might be going to make. Most of the children thought we were going to make jelly !
The children shared the 'stirring' and 'mixing' of the ingredients to make the playdough.
If you would like to make playdough at home here are the ingredients you need
I cup of salt, 2 cups of flour, 2 tablespoons of cream of tartar, 2 tablespoons of cooking oil, 2 cups of water, food colouring. Mix well together. The playdough should keep if it is put into an airtight container.
13.11.17
Walk around the local environment
Last week, as part of our work in phonics, we walked around the local environment, listening to the sounds we could hear. The children could say that they had heard cars, buses, birds and the water at the local car wash. As you walk home with your child perhaps you could ask them to tell you what they can hear.
This week we are starting to read We're all going on a bear hunt a story by Michael Rosen. If you would like to watch it with your child, there is a Youtube video @ https://www.youtube.com/watch?v=kL36gMrHJaI.
We will be practicing the words so that the children will be able to tell some of the story off by heart.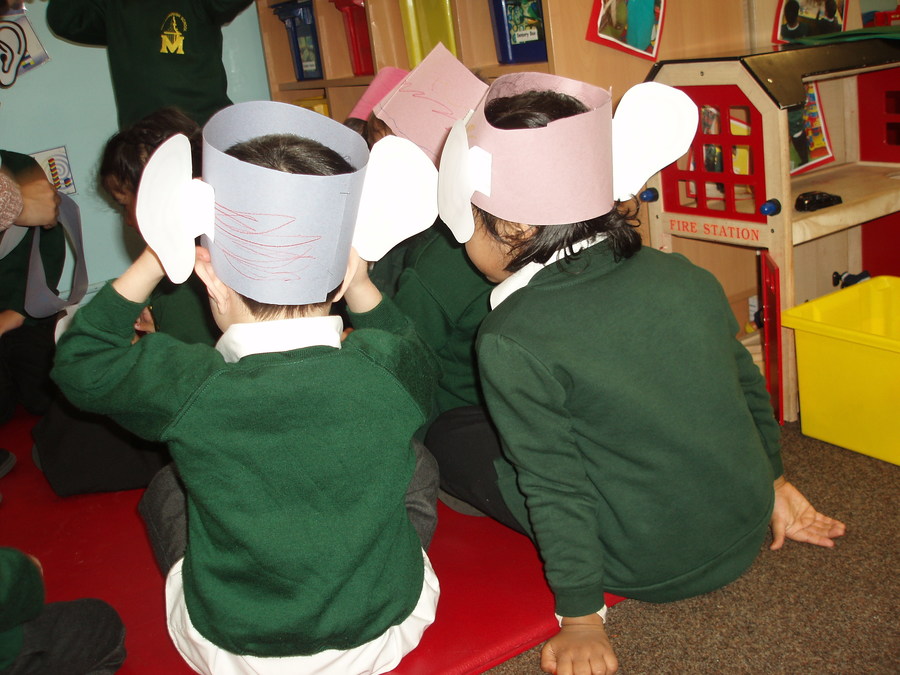 3.11.17
Listening
This week we have started work on developing good listening skills. We made 'listening ears' see the Letters and Sounds website (http://www.letters-and-sounds.com/phase-1-resources.html) for further information.
We went into the playground and the 'big school' to find out what we could hear.
20th October 17
Planting and Patterns
This week the children have enjoyed planting pansies and celebrating Diwali. They have made a clay diva lamp, as well as drawing Rangoli patterns.
The Nursery team have also been delighted to meet again, so many of our parents, during parental conferences. Thank you for coming, we were pleased to be able to talk with you about your children.
Do remember that you can come and talk to us at any time.
5.10.17
Jelly !
As we have been reading Red Rockets and Rainbow Jelly and enjoying looking at the picture of the rainbow jelly, we thought we should make jelly. In our family groups we talked about how to make jelly. Then each child had a chance to stir the different coloured jelly as the crystals dissolved. Later, as part of milk and fruit time, everyone enjoyed eating the jelly they had made.
29.9.17
All of our children are now in Nursery. They have been busy playing and learning indoors and outdoors.
22.9.17
It has been lovely to welcome the first two groups of children into Nursery this week. They are all beginning to settle down and have enjoyed exploring indoors and outside. We have been reading Red Rockets and Rainbow Jelly and Spot stories. We have also been talking about the fruit we like to eat.
We are looking forward to meeting the next groups of children who will be joining us during the coming week.
11.09.2017
Welcome to a brand new year!
The Nursery teachers are busy completing home visits this week. Thank you to all the families who have been so welcoming to us. We are looking forward to working with you and your children.