4th May 2018
Caterpillars!
On Tuesday, Mrs Thurkettle came to Moons with a very special delivery.
She brought a box with 10 tiny caterpillars for us to take care of.
We have called them: Dilly, Dixie, Bee, Filly, Flob, Welly, Snooly, Dalla, Goofy and Chilli.
It is our job to take care of them and keep them safe while they grow. When they are big enough, they will make a cocoon around themselves while they change into a beautiful butterfly!
On Tuesday our caterpillars were 1cm long, but by Friday they had grown and were already 1 1/2cm long. We think when we come back to school on Tuesday that they will be 3cm long.
29th March 2018
Easter Surprises
On Thursday the whole school took part in an Easter Bonnet Parade in the hall. We also had a visit from a very furry Easter celebrity! Take a look at the photos below to find out more.
28th February 2018
The Bad-Tempered Ladybird
Our next Talk for Writing story is all about Eric Carle's Bad-Tempered Ladybird. After getting annoyed with a friendly ladybird for no reason, the Bad-Tempered Ladybird goes on an adventure picking a fight with every animal he meets but doesn't fight them because he says they aren't big enough. In Moons we think he is just scared to fight them because all of the other animals are much bigger than he is!
27th February 2018
Snowy Days!
In Moons we are very excited about the current cold weather and have been enjoying our time playing in the snow and experiencing it through all of our senses.
It's been a bit chilly though and our hands got very cold from touching the snow, especially if we didn't have any gloves on!
30th January 2018
Owl Babies
This week we began our next Talk for Writing unit learning the story Owl Babies. In this story three baby owls called Sarah, Percy and Bill wake up to find that their mum has gone! While Sarah and Percy wonder where she could be, Bill just wants his mum to come back.
12th January 2018
Peace At Last
This week we began to learn the story of Peace at Last by Jill Murphy. In this story Mr Bear is very tired and really needs to get to sleep, but everywhere he tries to sleep there is something that keeps him awake!
Listen to the story to find out if he manages to get any sleep at all.
15/12/17
Father Christmas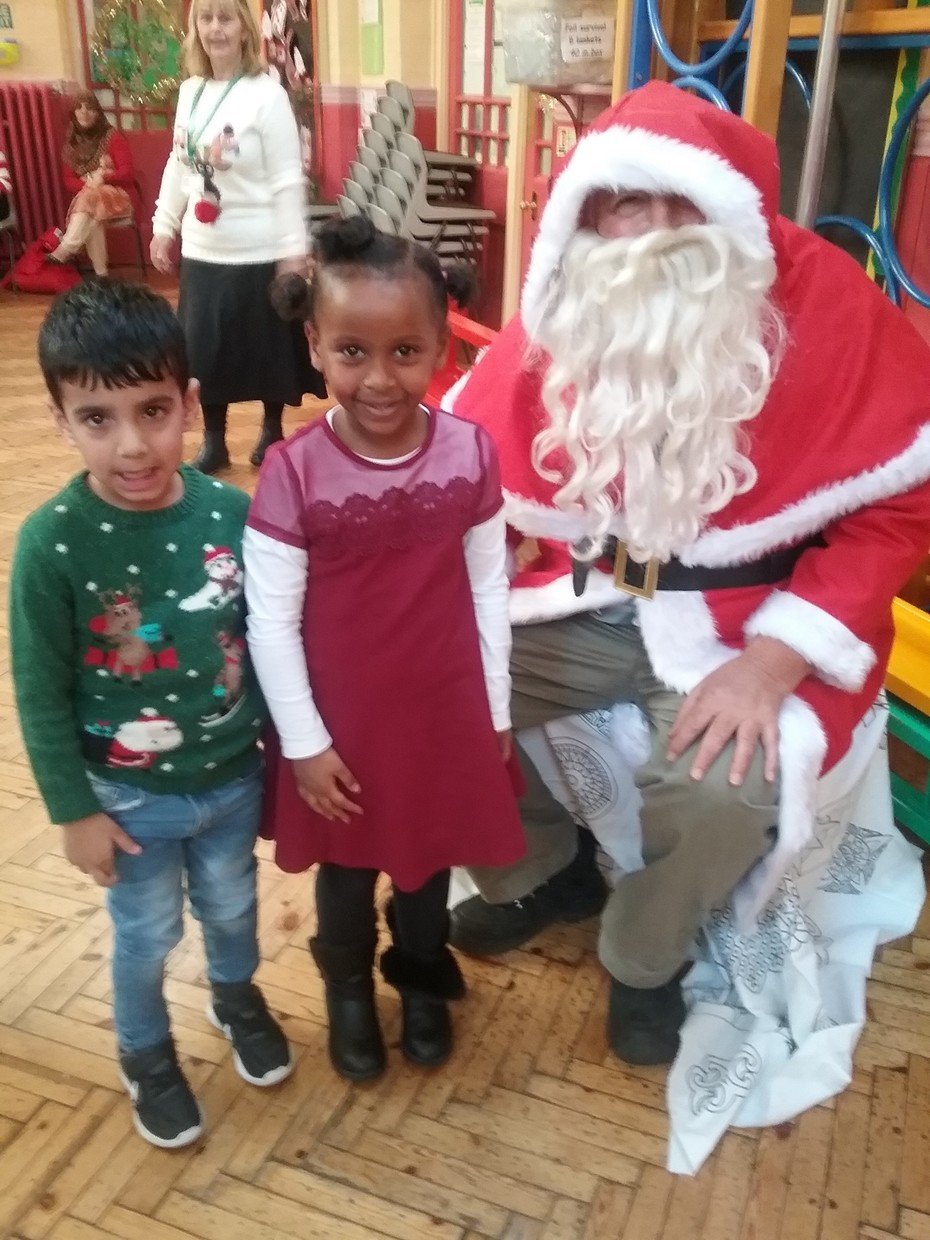 Tuesday 19th September 2017
Today we held a workshop in the school hall focussed on developing children's fine motor skills and co-ordination. We had a range of activities out to explore including threading beads, picking up fiddly items with tweezers and a cutting skills station. We all also had a go at using Dough Disco on YouTube - a fun and fantastic way to build up strength in wrists, hands and fingers to warm us up and get our fingers ready for writing.
You can access the Dough Disco YouTube video we used here.
Take a look at some of the activities we explored below.
13.09.2017
Roald Dahl Day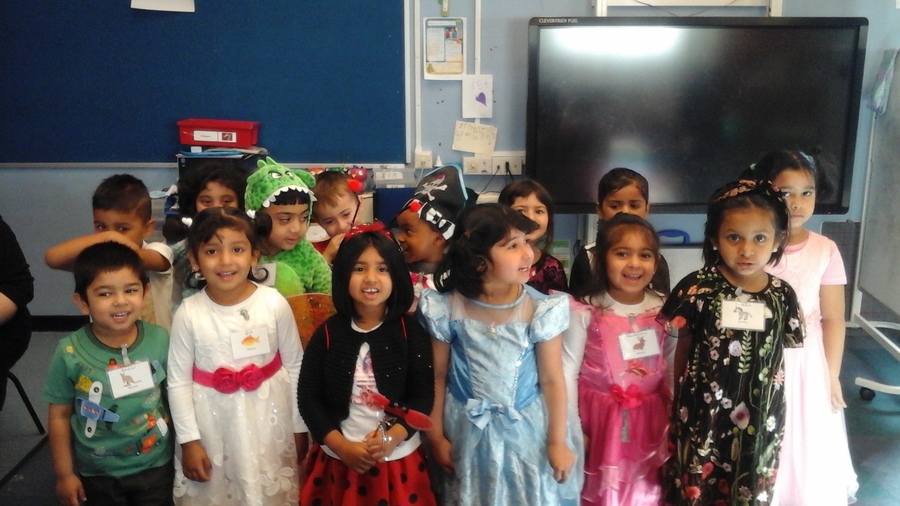 Wednesday 13th September 2017
Today was Roald Dahl day in school and we had some super Roald Dahl themed costumes in Moons including Matilda and her friends, Mrs Ladybird (from James and the Giant Peach) and a rather Enormous Crocodile!
A brilliant effort from everyone taking part - thank you moms and dads at home for helping to think of such fabulous ideas!
07.09.2017
Welcome to a brand new year!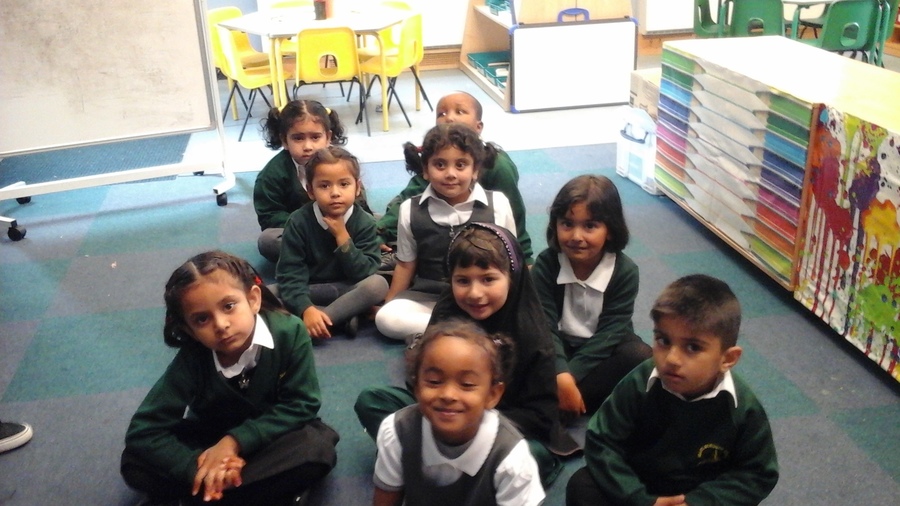 Thursday 7th September 2017
Hello, everyone, and an enormous warm welcome to the new school year from everyone in Moons!
We are all busy getting settled into our new class either in the morning or the afternoon, making lots of new friends and getting to know our teachers, Mrs Nicholson and Mrs Bicknell (although we are finding their names quite tricky to remember and say).
We are so excited about the year ahead, and can't wait for next week when all of the children are in together and we have the chance to meet even more new friends (and try out school dinners for the very first time).
Don't we look happy?