Transport survey!
As part of our topic we went outside with our teachers and observed the different vehicles we could see. We worked with a partner and noted down what vehicles we saw go past. We made a tally of these. We came back to class and then discussed our findings. We found out that we saw lots of buses, lorries, vans and cars. We did not see any bicycles or motorbikes.
Talk for Writing!
This half term we have been exploring lots of stories and we have been using talk for writing to help us write. Our topic this half term is 'Transport'. We have looked at the text 'Mrs Armitage on Wheels'. We have shared the story together and then used the symbols to retell it. Can you listen to your child at home to retell the story to you? We have innovated the story and recreated our own version. We will be writing our own innovated favourite section of the story. Watch this space!
George Seurat
As part of our Art work we focused on the artist 'George Seurat'. We looked at his pointillism work and tried to recreate it. We have been learning about traditional tale stories and we decided to use pointillism in our work. We chose our favourite character from a story and then we used cotton buds to create small dots and painted into the characters. What is your favourite character?
Creative day!
We had a creative day in school. We focused on using our imagination to create our own pictures. We took part in lots of paintings, collaging, junk modelling and we also went outdoors to draw and paint on a large scale.
The chicks visited Marlborough!
We have been learning about spring. The chicks arrived at our school. We observed them with our teachers and talked about where they come from, what they eat, what they look like and what they will grow into. We discussed their lifr cycle and we then wrote about the life cycle.
Local Area walk!
We have been talking about our community and where we live. We then walked around our school and observed our local area. We talked about what we could see and places we have been to. Some of us even spotted the nurseries that we have been to. Children really enjoyed this walk and learned a lot about their own community.
Roald Dahl Dress Up Day
We all came dressed up as characters from Roald Dahl's stories.
Can you guess which characters we are?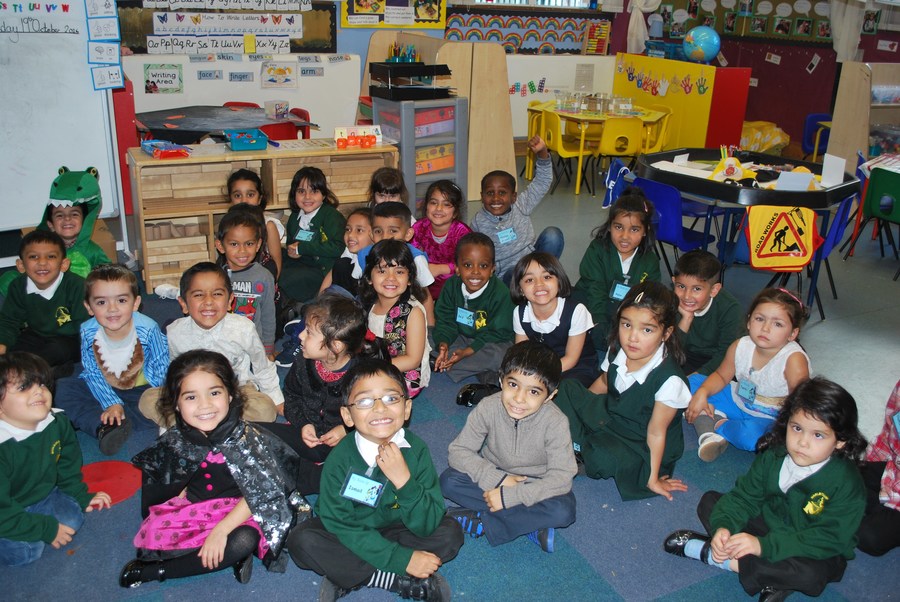 Santa came to our school!
We have been writing letters to Santa to come and give us some presents. Do you know Santa visited us and he gave us all a book. We sang some Christmas songs to Santa and he enjoyed them. We also had a Christmas party and we wore own clothes and party hats that we made.