The Royal Wedding
In Stars we have been busy learning about the Royal Family and looked at Prince Harry and Megan Markle's wedding.
Butterflies
We have been very busy looking after little caterpillars. We used our magnifying glasses to look at the caterpillars. We watched how the caterpillars made their cocoon and then thy became beautiful butterflies. We learnt all about symmetry because the butterflies wings are symmetrical. We all went out into the playground to release our butterflies. We miss you butterflies!
Chicks Arriving In School!
We have had some lovely little chicks delivered to us at our school. We were able to see the chicks and learn about the life cycle of the chicks.
Easter Egg Competition
Thank you to all the children that took part in the competition. All your eggs were great! Thank you to all the parents for supporting your children by helping your children to decorate their eggs. All the children that took part received a chocolate egg. Well done to everyone!
29th March 2018
Easter Surprises
On Thursday the whole school took part in an Easter Bonnet Parade in the hall. We also had a visit from a very furry Easter celebrity! Take a look at the photos below to find out more.
Wold Book Day 2018
Well done Stars for coming to school, dressed up as book characters! You all looked fabulous in your costumes! Can you guess which characters we are dressed up as?
The Bad-Tempered Ladybird
Our story focus for this term is the story, The Bad-Tempered Ladybird. We have read the story and re-told the story using the talk for writing maps. Take a look at all the work we have been doing.
Physical Development
Take a look at one of our lesson with John, the PE teacher! We have been learning to travel and land in different ways. We love to use the apparatus.
Maths Workshop
Thank you to all the parents that attended our Maths workshop. The children enjoyed doing all the different activities with their parents. Well done to everyone who worked very hard. We were all busy mathematicans!
Peace at last
We have enjoyed reading the story in our Literacy lesson. We read the story and then talked about what we liked and disliked about the story. Then we went through the story maps, thinking of our own actions. We have also innovated the story maps by changing th settings. Can you say the words and join in with the action with your children.
Stars have enjoyed meeting Father Christmas and they have had lots of fun in their Christmas party. Take a look at our Christmas party pictures.
15/12/17
Father Christmas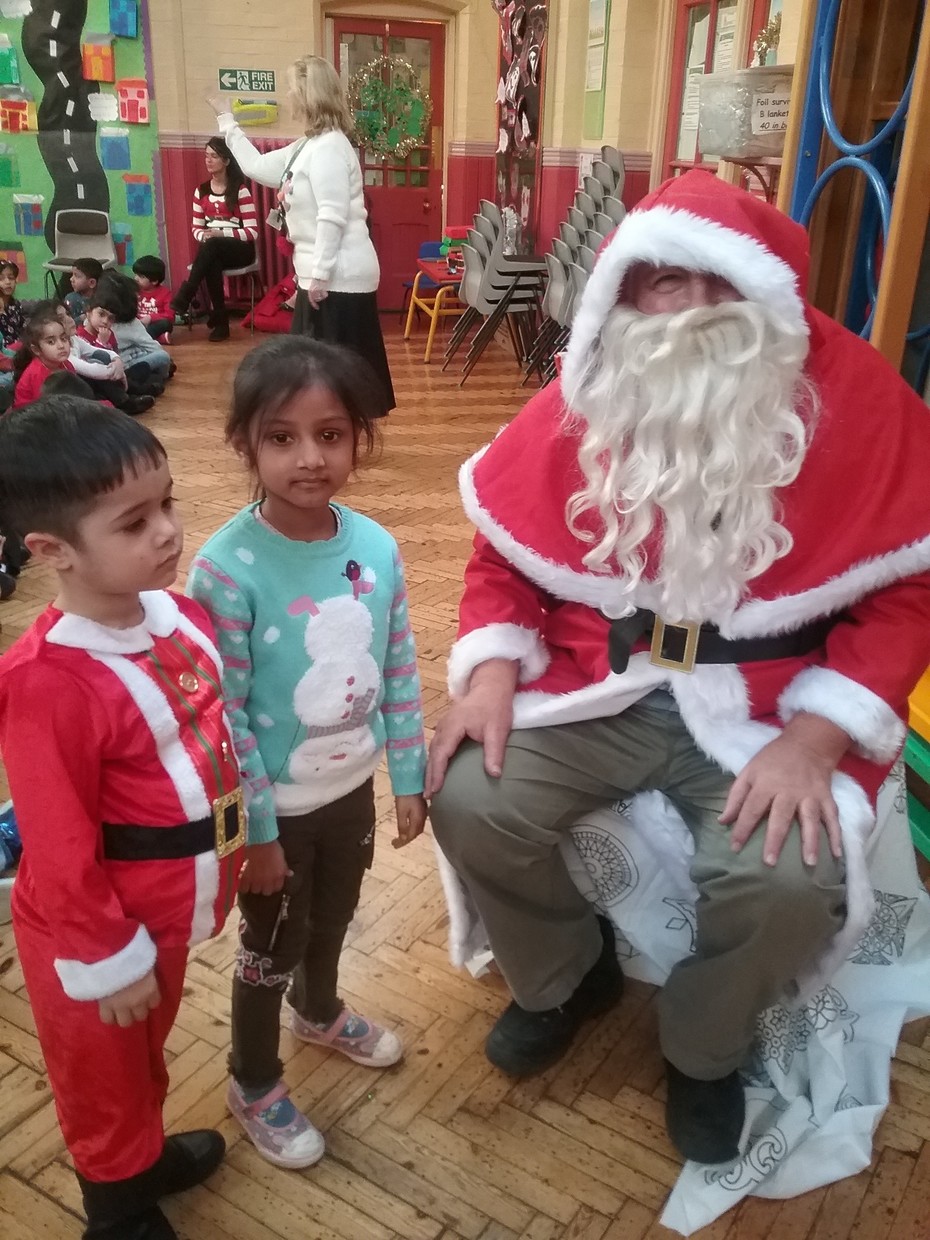 Children in Need
Thank you to all the children who came dressed in their pyjamas to school. You all looked great! We looked at why we have a Children in Need day and we painted lots of pictures of Pudsey, the bear. We raised lots of money.
Stars have been learning in the outdoor classroom. Learning at larger scale. Take a look at our photos.
Tuesday 19th September 2017
Today we held a workshop in the school hall focussed on developing children's fine motor skills and co-ordination. We had a range of activities out to explore including threading beads, picking up fiddly items with tweezers and a cutting skills station.
13.09.2017
Roald Dahl Day
Wednesday 13th September 2017
Today was Roald Dahl day in school and we had some super Roald Dahl themed costumes in Stars.
Thank you moms and dads for helping to think of such fabulous ideas! It was a great day and children really enjoyed being in different characters.
07.09.2017
Welcome to a brand new year!
Hello, everyone, and an enormous warm welcome to the new school year from everyone in Stars.
Everyone in Stars is busy settling into their new class and the outdoor area. We all are busy making friends and getting to know our new teachers Miss Fardoos, Mrs Bibi and Mrs McKeown.