Mercury
Welcome to the homepage for Mercury!
9.4.19 - Easter baskets
Today we completed our Easter baskets. After covering a blown up balloon with small squares of material, we let it dry. We added handles and coloured in pictures of Snow White and the seven dwarves to fit in with our theme ' Snow White and the Seven Dwarves' .
Happy Easter!
9.4.19 - Eco Park
Today we enjoyed a visit to the Eco Park to build dens and create artwork using natural materials that we found in the Eco Park. It was a fantastic opportunity to work as a team and discuss our den building ideas with our friends.
08.04.19 - Easter story
In Mercury we have been learning all about the Easter story. The Easter story is very important in the Christian faith. We learnt all about Jesus and his friends. We thought about new beginnings and new life.
We used puppets to re-tell the Easter story and took on the role of the different characters in the Easter story.
We performed our stories to the rest of the class.
19.03.19
Australia and Antarctica day!
Today we went on an adventure. First we set off to the continent of Antarctica, we made sure we were prepared for the harsh weather conditions. We then got on a plane and went to the continent of Australia. We needed to change our clothes and put on sun cream as it was so hot.
We learnt all about the climate, the animals that lived in the two continents, physical and human features and created flags. We also used I pads to research each continent.
British Science Week- Thursday 14th March
Thank you to all of the science ambassadors and teaching staff for your support during a wonderful afternoon of science experiments!
British Science Week - Monday 12th March 2019
Our first activity during British Science Week was a Science pass the parcel. We used our Scientific vocabulary to explore what might be inside the parcel. Once we had unwrapped all of the layers, we found an ice balloon inside. In Mercury we then watched a video about the water cycle. Our investigation explored how it rains by using shaving foam as the cloud and pouring rain onto it to see how much water the cloud could hold before it rained.
We foolowed up our experiment by drawing and labelling a diagram of our experiment. We also enjoyed drawing and labelling the water cycle.
Thursday 7th March 2019 - World Book Day
We started the day with an assembly to share all our wonderful outfits of our favourite book characters. Throughout the day, a bell rang. When the bell rang we stopped what we were doing and read our favourite book. During the afternoon we designed our own book covers, created book marks and wrote a book review of our favourite book.
What a wonderful day we've had!
Monday 4th March 2019
LO: To name and locate the world's seven continents and five oceans
Name, locate and identify characteristics of the four countries and capital cities of the United Kingdom and its surrounding seas.
Today we were explorers! We spent the afternoon travelling to the seven continents of the world and exploring the similarities and differences between them. We thought about the weather in each of the continents and talked about some of the most famous landmarks there.
While travelling we also crossed the five oceans, by boat, aeroplane and we even had a go at swimming across some of them!
Monday 4th February - Safer Internet Day 2019
As part of Safer Internet Day Mercury discussed how to keep safe when we are online.
When we are online and are not sure about something we can always ask our parents for help.
Sharing personal information such as your name, home or school can be dangerous.
Friday 1st February - Number Day - 2 67 81 100 45 17
Number day has been a really fun day. Children in Mercury have worn some fantastic number clothes. We began the morning in the hall playing multiplication and addition games. When we got back to class we recited out times tables and played a fun game called 'Who Wants to be a Mathionnare? '
Tuesday 29th January - Story telling week
Thank you to Sajad for bringing one of your favourite stories into school and reading it to the class. What a lovely story!
Tuesday 29th January 2019 - Role play
Today we have been acting out the story ' The Great Kapok Tree'. We each chose a character to play and worked together to act out the beginning, middle and end of the story. We concentrated on using vocabulary that we had heard in the story.
Friday 18th January - World Religion Day
Today we learnt about Hinduism and the importance of Hindu artefacts. In Mercury we focussed on the Hindu Arti lamp, which is used by Hindus in the Gurdwara. They hold the Arti lamp in their hands and rotate it in front of the statues/photos of God. The five points on an Arti lamp symbolise water, air/gas, wind, Earth and fire . We also enjoyed making Arti lamps from clay.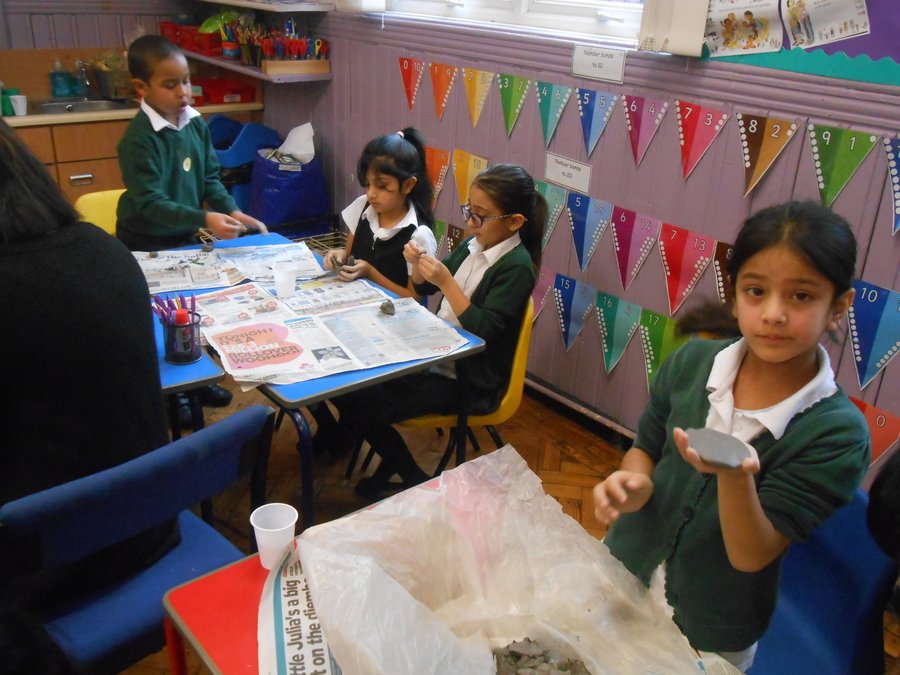 Thursday 17th January 2019 Walk around our local area
Today we went for a walk around our local area. We saw lots of houses, shops and a place of worship. We marked our maps and discussed the different symbols for each place we saw.
Monday 14th January 2018 - Computing
Today we explored 'Scratch' and began to animate a character.
Monday 14th January 2018 - Deforestation.
This morning, we continued leaning about the effects of deforestation on the environment and the animals that live in the rainforests around the world. We discussed solutions to deforestation and how businesses, as well as individuals, can help to save the rainforests.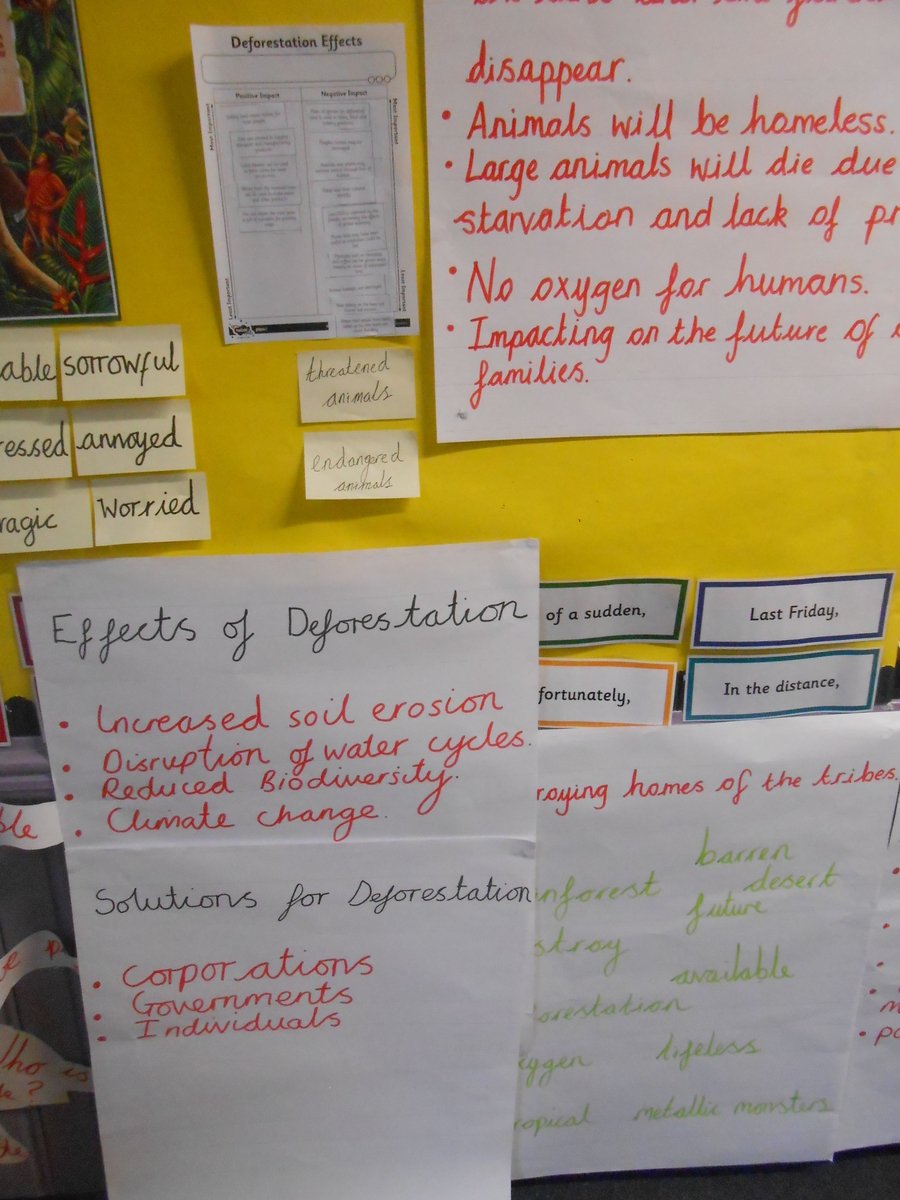 Monday 17th December 2018 - Christmas activity morning with class 4R
In Mercury some children made cards, paper chains and hats. with their partners. Other children coloured Christmas and winter scenes. Some children went to the junior classroom top colour winter patterns that we then used to create paper chain decorations.
Friday 14th December 2018 - Parent workshop
On Friday we had a parent workshop and all of the children in Mercury made Christmas cards and hats and our parents helped us. We enjoyed the parent workshop because we took part in lots of different Christmas activities.
Thursday 13th December 2018 - Christmas Party in Mercury!
On Thursday we had a Christmas party in Mercury. At the party we played musical chairs, musical statues and ate lots of tasty,delicious food. Playing musical statues was really exciting and really challenging because there were lots of fantastic dancers who could freeze like ice statues when the music stopped.
Wednesday 5th December 2018 - Reading with our buddy class 4R.
This morning we thoroughly enjoyed reading with the children in class 4R. We shared our evacuee diaries, discussing our achievements and our targets for our next piece of writing. We enjoyed looking through the year 4 work books and found some interesting information about Children in Need.
We are looking forward to going to our buddy class again soon.
4.12.18
On Monday morning we arrived at school with the news that a sneaky elf had been causing chaos in Saturn classroom. We read a newspaper report about the incident and Mrs Cooper told us all about what she had seen.
We looked at some of the features in the newspaper article, such as headline, introductory paragraph, facts, quotes and sources and a summing up paragraph.
We had a selection of newspapers made for children. In our teams we identified the features in each of them, placing them on the sugar paper next to the correct feature. We thought about what the purpose of each feature was and if we thought it was effective.
When we walked into our classroom this morning we found that the scheming, sneaky elf had visited Mercury too!
We investigated the mess and spoke to Mrs Cooper, who informed us that she hadn't seen anything suspicious, apart from a light in her office being mysteriously turned on.
We followed up our investigation with a plan to write our own newspaper article on the incidents.
28.11.18
Today we carried out a science investigation to observe changes over time.
We completed the science planning poster as a class. What could we change? What if we changed the length of the stem? What do we think would happen?
We cut the flowers and placed them in different food colouring.
We thought about what we could see. What was changing. What was staying the same.
Tuesday 27th November 2018 - Our Maths Investigation Day
We had a lot of fun completing team building activities based on maths investigations. Firstly, we were given the answer to a maths question and had to work out what the question would be. After that, we worked with our team to build the tallest tower. It was a super problem solving activity. At first, we found it a real challenge to build a tower that would stand up but we found that if we used three sticks together it would make our tower sturdy. During the afternoon, we explored a range of maths games on the computer.
Isra '' I'm using three sticks because it makes our tower stand up.''
Sulemaan '' If we use a smaller square as the base, it will break.''
Monday 26th November 2018
Mrs Bicknell came to visit Mercury today. She showed us lots of lovely items that belonged to her Grandparents. Mrs Bicknell told us that both sets of Grandparents served in the war. Grandpa Thomas Baker was the officer in charge on a ship based in Norway. He was very lucky in the war, narrowly avoiding death because of the quick thinking of his fellow crew members covering him in ropes in the water.
Grandpa Phillip Newbury was a soldier based in Africa and spent two years as a prisoner of war. He was captured by Italian Soldiers and taken to Germany.
It was fantastic to hear the real life stories of Mrs Bicknell's Grandparents, we had a wonderful time looking at the items and asking her lots of questions. Some of us thought of more questions and write them down and gave them to Mrs Bicknell. She popped into class again to answer them.
Thank you Mrs Bicknell!
Thursday 22nd November 2018 Evacuee day
Mrs Nend came into our classroom as an Air raid warden. She explained the role of the warden and what people did when a siren sounded. We learnt about what to do if someone was stuck under rubble or if a person was missing. Throughout the day, we watched a variety of clips from films linked to children being evacuated to the countryside.
Wednesday 21st November
Today we have been testing stretchy materials. We began by creating our own hypothesis, such as 'The smoothest piece of fabric is the stretchiest' and 'Dark fabrics always stretch less than the lighter ones'. We stretched the pieces of material in both directions and diagonally and made our observations. We sorted the fabrics into three groups and thought about the material that would be most suitable to use as a stretchy sports top for Usain Bolt.
Monday 19th November
Thank you to the parents who joined us for our class workshop this morning. We created gas mask boxes ready for our dress up day on Thursday.
Did you know?
Everyone in Britain was given a gas mask in a cardboard box, to protect them from gas bombs, which could be dropped during air raids.
What were the gas masks like?
The masks were made of black rubber, which was very hot and smelly. It was difficult to breathe when wearing a gas mask. When you breathed in the air was sucked through the filter to take out the gas. When you breathed out the whole mask was pushed away from your face to let the air out.
Friday 16th November 2018 - Eco Park
At the Eco Park we continued our science topic 'materials' by searching for natural materials and discussing their properties.
We also took our clay poppies to the Eco Park and held a 2 minute silence to remember the soldiers who died in the world wars, giving their today for our tomorrow.
Thursday 15th November 2018 - Exploration of materials and our absorbency investigation.
This afternoon we explored a range of materials. We named them, discussed their uses in the world and thought about their properties. Following our exploration, we were introduced to an investigation. We had to help find the most absorbent material to soak up spilt milk and water during snack times. We spent time planning our investigation and talking about how we could make it a fair test.
After the investigation, we shared our results and discussed what might we could do to improve the investigation next time.
Some of us went home to write a short note about what we enjoyed about science today and why.
Thursday 15th November 2018 - The beginning of our Diary of an Evacuee topic.
Today, we read a range of diary entries written by children who were evacuated to the countryside during the second world war. Our focus was to explore the features of a diary entry and to explore emotive language. We displayed all of the emotive language and interesting vocabulary on our working wall so that we can use it when we are writing our own diary entries.
Monday 12th November.
Today we have been comparing past and present pictures of Small Heath. We have noticed lots of differences, can you?
Thursday 8th November - Birmingham Museum
Today we enjoyed exploring the different areas in the museum. We learned a lot about ancient Egypt and areas in the Middle East. Our focus for the day was to learn as much as we could about the history of Birmingham and why we wear poppies on Remembrance Day. We found out information by reading information cards, looking at artefacts, listening to stories of those who lived in Birmingham in the past and exploring a range of activities.
Monday 5th November 2018 - Poppy art
Today we listened to a story called 'Where the Poppies now Grow'. The children's story helped us to understand why we wear poppies and hold a minutes silence on November 11th at 11 o' clock. To commemorate the soldiers who died in the world wars we designed, made and painted our own poppy using clay, which will be displayed in a poppy garden at the Eco park.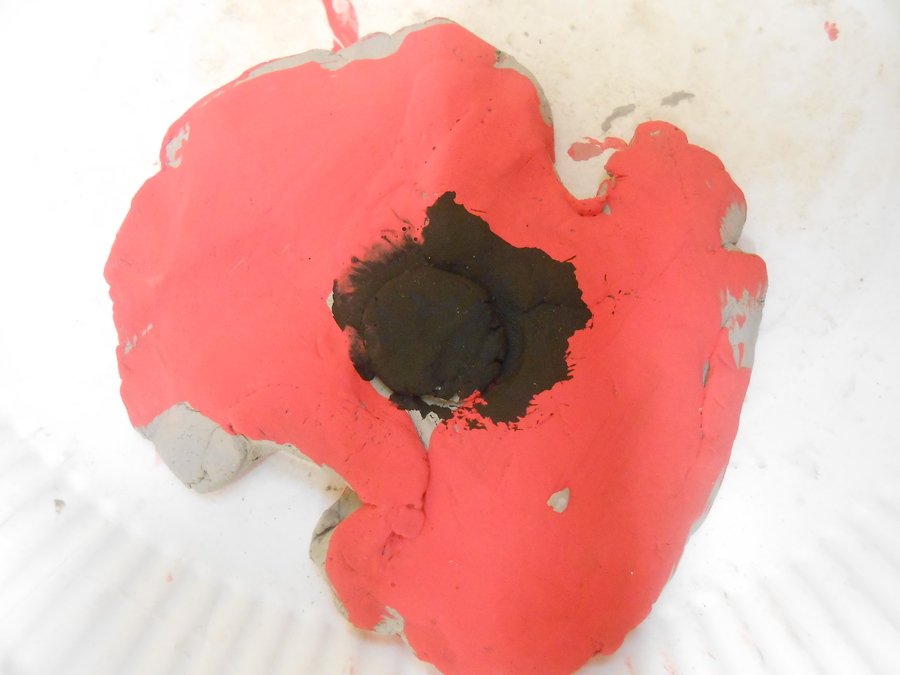 26.10.18
Thank you for your generous contributions to our Harvest Box. All our boxes were designed around an animal and in Mercury we chose to create a badger box. All your donations will be going to support homeless people in Birmingham through the charity Sifa Fireside.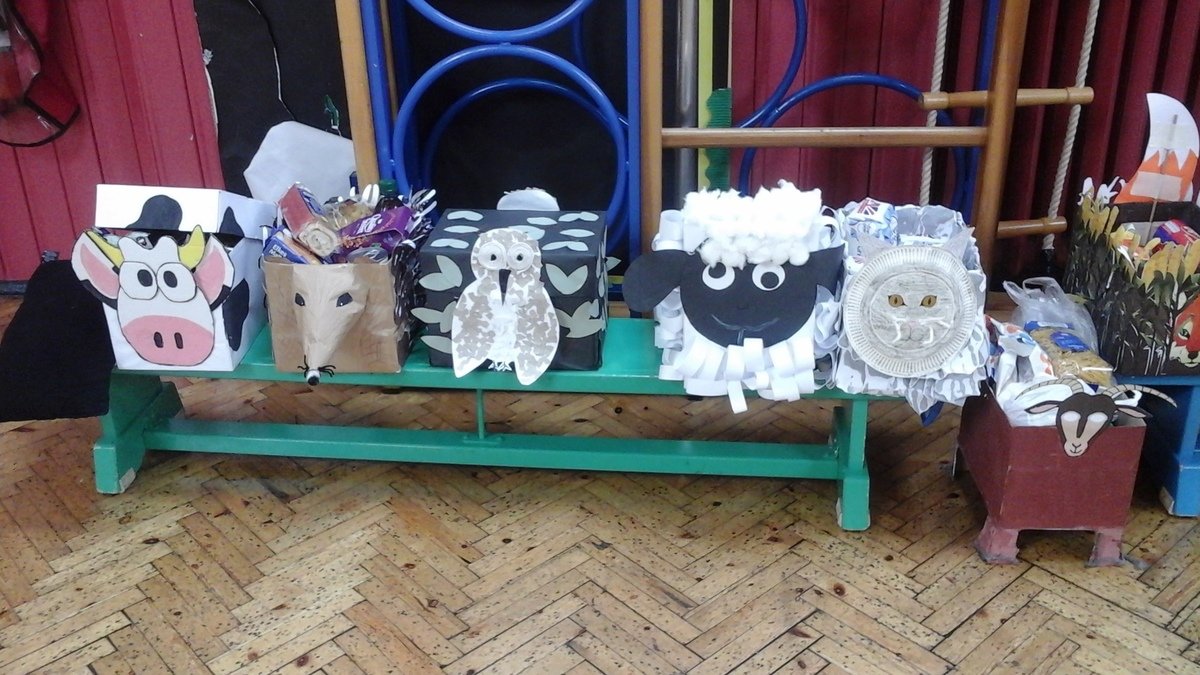 Thursday 25th October - Friday 26th October 2018 - Sleepover!
Well done to all of you who stayed over at school for fun, games, food and lots of time to enjoy socialising with your friends. You have all come back to school with more confidence.
Have a look at the fun we had!
Tuesday 23rd October 2018 - Year 2 bake sale and reading in Mercury.
Thank you so much to all of the parents who attended the bake sale today or contributed to the fund raising for Birmingham Children's Hospital.
We wanted to say a huge thank you to you all for you generosity. The money we raise will be gratefully received by the hospital.
Monday 22nd October 2018 - Parent workshop.
Today we enjoyed our flapjack making workshop with our parents. The flapjacks we made will be sold at our bake sale tomorrow morning to raise money for Birmingham Children's Hospital. We also made posters, which we displayed around the school to encourage as many parents to attend the bake sale as possible.
Thank you to all the parents who attended the workshop.
Monday 15th October 2018 - Instructions and art fun!
Today we read and followed instructions for our chosen creative activity. Rose cards were made in Mercury, leaf printing fun was in Neptune and glitter mobiles were made in Saturn. We looked at the heading, what we needed, the instructions and any tips to help us. We will use these ideas when writing our own instructions for our hot write.
Wednesday 10th October 2018 - First Aid Fun!
Today we enjoyed a visit from Birmingham Children's Hospital. We learnt a lot about the people who work in the hospital helping the children to get better. We then enjoyed a fun first aid session with our teachers and Mrs Nend. We practiced what we would do in an emergency situation at school and at home. We found out how to treat burns and deep cuts. We also practiced putting our friends into the recovery position. We are super first aiders!
Friday 5th October - Eco Park, bird feeders
Today we enjoyed exploring the Eco Park. We enjoyed listening to bird calls and identifying different birds, looking closely at their features. We found that all the food from the bird feeders had been eaten. We discussed the idea that there were lots of different birds in and around the Eco Park but that squirrels and foxes and mice could have nibbled them too.
Thursday 4th October - Drama
Over the next three weeks we are learning about instructions texts. We gave our talk partners clear and specific instructions for 'How to put on a jumper'. We found that if our instructions were not clear, our partner would not put on their jumper correctly. This showed us the importance of giving clear instructions. This will help us with our hot write in two weeks time. We also acted out instructions that were given to us by our talk partner.
Tuesday 2nd October 2018 - Science - Making bird feeders.
Earlier in the afternoon, we planned our science investigation. Our aim is to find out what the most common bird in Small Heath is, so the whole year group got involved in making bird feeders using seeds, nuts, fruit and mealworms. We found out that Robins prefer to eat mealworms, whereas Magpies prefer to eat fruit and Blue Tits prefer to eat peanuts. Mrs Pearson has kindly taken our bird feeders to the Eco Park today so that on Friday, during our visit to the Eco Park, we can investigate which bird feeders have been eaten. This will give us an idea about what the most common bird in Small Heath is.
Monday 1st October 2018 - Tea making
Today we followed a set of instructions to make a cup of tea. This helped us to write a set of instructions 'How to make a cup of tea'.
Wednesday 26th September 2018 - The Adventures of Florence Nightingale drama
Today we acted out 'The Adventures of Florence Nightingale' using the story plan that we created together in preparation for our hot write later this morning. We use drama to help us to remember our story and support our writing.
Friday 21st September - Roald Dahl Day
We dressed up for Roald Dahl Day and raised money for charity. Look at our costumes!
Wednesday 19th September - A visit from Florence Nightingale
Today Florence Nightingale came to visit. We had prepared lots of questions for her to answer. She gave us lots of information about herself and her achievements. She is inspirational.
Look at some of our questions...
Why did you want to be a nurse?
Why were you passionate about caring for ill people?
What was it like in the Scutari hospital when you arrived?
How did you change the hospital?
Tuesday 18th September - Florence Nightingale role play.
Today we had a lot of fun recreating a scene at the Scutari hospital where Florence Nightingale looked after injured soldiers. We learned a lot about her passion for nursing and caring for others. She wanted to achieve something spectacular during her life and she did.
Thursday 20th September - Maths time!
This week we have been learning about the place value of digits in a 2 digit number. We have been learning to partition the numbers into tens and ones. To challenge ourselves we began to partition numbers in lots of different ways. We really enjoyed the practical exploration of numbers.
Wednesday 12th September 2018 - Music time!
At the beginning of the session we enjoyed making sounds with our body and listened to a piece of music called 'Lark ascending' by Vaughan Williams. We discussed what we imagined when we closed our eyes and listened to the wonderful piece of music. After, we explored chime bars and how the sound changed with each chime bar. We then joined in singing a song, while some of us played the chime bars.
05.09.18
Welcome to Mercury! I hope you had a lovely first day in year 2. I have thoroughly enjoyed the day creating art work kites, inspired by Carol Thompson.
You enjoyed spending time in your new class, getting to know your teachers and catching up with your peers.
Let's look at your first day photo in your new class.