Saturn
Welcome to the homepage for Saturn!
09.06.17
A super week beginning to look at our new story, The Sea Monster. Below are our talk4Writing pictures that go with it. Please spend some time with your child, allowing them to tell you the story through these pictures and showing you the actions that go with it.
Just in case I have, as usual, included the text of the story that we are using.
In science we are learning all about 'Growing Plants,' so we investigated what a plant needs to be healthy. Please talk to your child about what they have discovered.
28.04.17
Our new topic is the seaside and the children are learning a persuasive advert for Weston Super Mare as their text for English. As usual we are learning this through Talk4Writing and I have included the pictures (and the text) below. Please take some time to look at these with your children and ask them to tell you how they could make it even more interesting. Don't forget that you can also look at adverts in magazines or on the television to see what else is used to capture our attention.
07.04.17
We had lots of fun learning new skills, like sewing, in the afternoons this week that helped us to produce the amazing Easter baskets, hats and cards that you can see below. The baskets were created using balloons, patches of material and pva glue, just like when making papier mache, and were great for holding the egg that the Easter Bunny kindly gave us. We thought our lamb hats were fabulous too, what do you think?
24.03.17
What a lovely sunny day we had for Red Nose Day today and didn't you all look fantastic with your red clothes and noses. We will have raised lots of money to help other children in our country and other parts of the world.
I have included the new Talk4Writing pictures from the poem, Rumble in the Jungle, that the children have begun to learn this week. Have a go and see if you can do any better than they can! Just in case you need the words though ...
There's a rumble in the jungle,
There's a whisper in the trees,
The animals are waking up
And rustling the leaves.
The hippo's at the water hole,
The leopards in his lair,
The chimpanzees are chattering
And swinging everywhere.
It's great to be a chimpanzee,
Swinging through the trees,
And if we can't find nuts to eat,
We munch each other's fleas.
17.03.17
The children have been learning and applying their knowledge of the 2,5 and 10 times tables to solve problems involving multiplication and division over the last couple of weeks in their maths lessons. I hope you have had lots of fun playing your homework games, Sea-Shack Smash and Balloon Pop children. Please keep practising and learning your times tables!
03.03.17
This week we began our new topic in English - Instructions.
We have been learning 'How to make a chocolate bar' using Talk for Writing. Click on our maps below and ask your child to read them to you - don't forget your actions too children!
Mr Willy Wonka sent a video message to the children at the beginning of the week asking for their help. He had run out of ideas for chocolate bars or sweets and needed them to use their imagination and invent something new for him. On Friday the children planned their creations and next week they will use the maps below to help them innovate the instructions to match their creations.
In the following week they will plan their own set of instructions for anything they want - some ideas so far have been:
'How to make a bead necklace' or 'How to be a footballer' or 'How to build a den' or 'How to make flower mandala.' It is their own idea, so get your thinking caps on children!
01.03.17 World Book Day celebrations
The children all looked fantastic in their book character creations and enjoyed a busy day. We had pirates, princesses, a wizard and even a troll!
Well done everyone.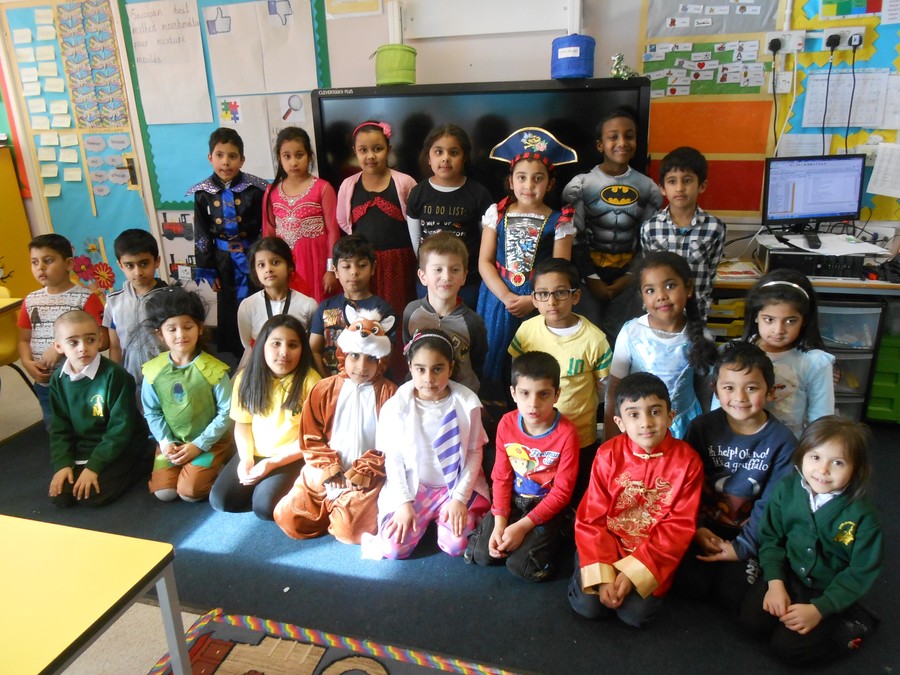 17.02.17
Look out for our new window display - WE ARE LEAVING WINTER BEHIND US
The children have had a super day creating lots of different pieces of art work for our class room. We learnt how to make flower mandalas that will look like beautiful sun-catchers on our windows between Saturn and Nursery, butterflies that look like they are flying off our windows,flower petal bracelets using paper craft and created bunnies for our window using mosaics.
25.11.16
This has been a week getting back to routine after the children's extended weekend. We have been working hard to finish our newspaper report 'hot write' about Guy Fawkes and the Gunpowder plot and then in maths we have been learning to add and subtract multiples of 10 or 'near tens' numbers.
In science we have started to investigate how an astronaut keeps healthy - testing different forms of exercise to see which has the most or least affect on our body. We walked, jogged, ran, did star jumps, skipped and some of us even attempted push-ups for 1 min. Afterwards we discussed how we felt and noticed changes like our hearts beating faster or our cheeks turning rosy red.
We finished our week on a class craft project, having lots of fun and learning a new skill. Watch our window next week for the result of our work!
14.11.16 Parents workshop.
What a wonderful time we had this morning creating our rockets with the help of some of our parents. Many thanks to those of you who came to support your child, I hope you enjoyed the opportunity as much as your child did. Even if you were unable to join us don't worry, everyone made a rocket and they were all amazing!
Before our workshop the children had spent time learning about different materials in our science lessons, finding out, through hands on experiences, which materials will bend, stretch, twist or squash. We then discussed which of these would be suitable to build and decorate our rockets.
Well done children, you had some incredible, creative ideas to transform the recycled junk into the many varied but equally fantastic rockets that we ended up with.
Please click on the photographs below to see their wonderful creations.
21.10.16
Today we carried out a scientific investigation. We wanted to find out how we can best wash our hands to keep ourselves healthy. First we rubbed a 'magic potion' over our hands, then we washed them. Some of us washed with only cold water, some with cold water and soap. Others used warm water while the rest used warm water and soap. We predicted whose hands would be the cleanest before using a special torch. If our hands were not clean the 'magic potion' sparkled under the light. We discovered that the children who washed their hands in warm water with soap had the cleanest hands.
Roald Dahl Dress Up Day
Can you guess which characters we are?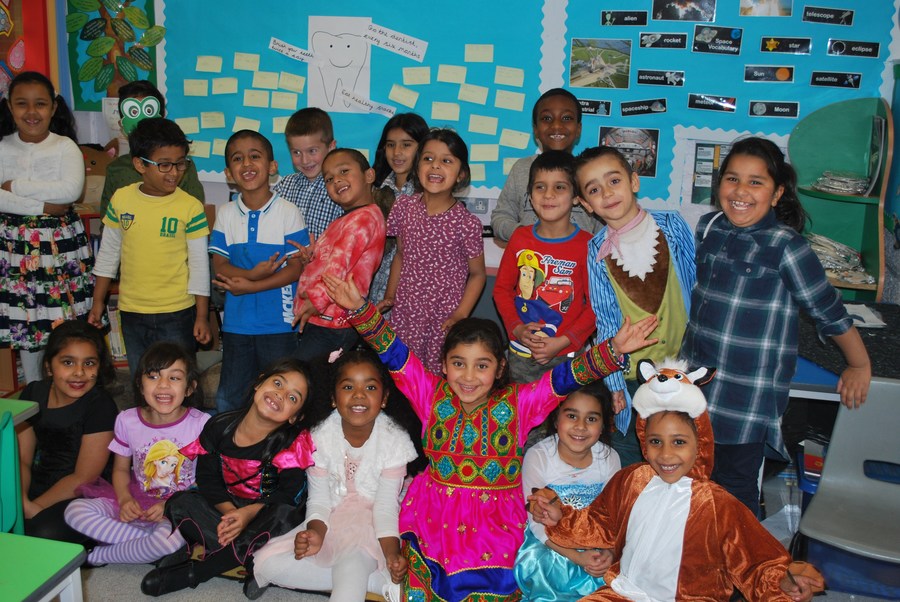 Week beginning 10.10.16
What a busy week we have had! On Tuesday we were visited by Harold the Giraffe and his friends to help us learn about our bodies, feelings and keeping ourselves healthy and safe.
We also went for a walk around our local area, looking for landmarks that we could use to create our own maps. We found objects like post boxes, telephone boxes and pedestrian crossings that we will include when we create them.
Last week we began immersing ourselves in the works of Roald Dahl. We are reading Fantastic Mr Fox at snack time and have been learning an extract 'The Glass Elevator' from Charlie and the Chocolate Factory.
Don't forget that next week we have our Roald Dahl day when we would like everyone to come into school dressed as their favourite Roald Dahl character, so put your thinking caps on over the weekend and let your creative juices flow!