Saturn
Welcome to the homepage for Saturn!
Tuesday 19th March:
What an adventure we went on today!
This morning we found ourselves exploring the frozen ice shelves of Antarctica, whilst suitably wrapped up to keep ourselves warm of course. We looked at the different animals that live on this continent, found out about the scientists who spend time here learning about them as well as trying to find out more about the effects of global warming on the region and we researched the physical features of Antarctica as well as the weather. Did you know that it is the coldest place on earth and the windiest? I bet you didn't know that there are boiling volcanoes too!
This afternoon we climbed aboard a plane and flew from Antarctica to Australia. We had to get changed out of our cold weather clothes into our shorts and T-shirts because it is much warmer in Australia! We spent time researching the physical and human features of the worlds 6th largest country, identifying the tallest mountain and the longest river as well as famous landmarks like The Sydney Opera House and Sydney Harbour Bridge. We discovered that the animals that live in Australia are very different from those which we had seen in Antarctica and spent some time creating art work of the animals on the style of native Australians, the Aborigines.
Monday 18th March:
This afternoon in our science lesson we explored how some materials change when they are twisted and how twisted materials are used to make everyday objects. The children discovered, by untwisting some materials, how twisting materials together can make them stronger, for example several threads in a piece of wool or string have been twisted to make one length that is much more difficult to snap or pull apart than the individual threads. The wool can then be used to make everyday objects like clothes or carpets and will not just quickly fall apart. The children decided the cellophane was good to wrap sweets in because it stayed closed when twisted so the sweet would safe inside but it was also easy to untwist to be able to eat the sweet!
British Science Week: 11th - 15th March
What a great start we've had to Science Week. We played a game of science pass the parcel, where we had to try to guess what was in the parcel. In Saturn, once we had discovered that it was an ice balloon in side, we then worked with a partner to look closely at the ice balloon and write lots of scientific questions about what we could see. We then investigated what would happen if we added salt, food colouring and finally sugar, which generated lots more questions .
After that we made climbing creatures, ready for the science fair on Thursday afternoon. We learnt about how we use forces in our everyday lives and how the force of friction can help our 'creature' to climb up the string and how the weight of a penny helps the force of gravity to pull the 'creature' back down again.
Thursday 7th March 2019 - World Book Day
We started the day by inviting our parents to share a book with us in the classroom before an assembly to share all our wonderful outfits of our favourite book characters. Throughout the day, a bell rang. When the bell rang we stopped what we were doing and read our favourite book. During the afternoon we designed our own book covers, created book marks and wrote a book review of our favourite book.
What a wonderful day we've had!
4th March 2019
LO: To name and locate the world's seven continents and five oceans
Name, locate and identify characteristics of the four countries and capital cities of the United Kingdom and its surrounding seas.
Today we were explorers! We spent the morning travelling to the seven continents of the world and exploring the similarities and differences between them. We thought about the weather in each of the continents and famous landmarks there.
While travelling we also crossed the five oceans, by boat, aeroplane and we even had a go at swimming across some of them!
Tuesday 5th February - Safer Internet Day 2019
As part of Safer Internet Day Saturn discussed how to keep safe when we are online.
When we are online and are not sure about something we can always ask our parents for help.
Sharing personal information such as your name, home or school can be dangerous.
Following this we all began to create posters to warn others about the dangers of disclosing personal information.
28th January to 1st February
This week has been Story Telling Week. We have been enjoying sharing the books of author and illustrator Oliver Jeffers. Every snack time we have had a new book to discover and we have been discussing how his books are similar or different to each other. We have also been finding out all about Oliver Jeffers and wrote a fact file using the information we found. Throughout the week we have also been creating our own story book, based the 'Crayon' series of books by Oliver Jeffers. We think he'd be proud of our efforts, we certainly are.
Friday 1st February
What a fabulous start to February! We have been raising money for the NSPCC and having fun at the same time. We have been using numbers all morning to play lots of different games, using our equipment to make numbers in different ways and using discussion cards to talk about numbers.
Thursday 31st January
This morning we having been investigating equal groups as the beginning of our unit on multiplication. Once we had understood what an equal group is, we then made 'four equal groups with five in each group,' ' three tens' and 6 fours in as many different ways as possible.
Thursday 17th January 2019 Walk around our local area
Today we went for a walk around our local area. We saw lots of houses, shops and a place of worship. We marked our maps and discussed the different symbols for each place we saw.
Monday 14th January 2019
This morning we continued learning about the effects of deforestation on the environment and the animals and plants that live or grow in the rain forests around the world. We focused on the impact deforestation makes locally and globally, in either a positive or negative way, through discussions about given statements.
Friday 11th January 2019
Welcome back to the New Year in Saturn. We have all enjoyed our first few days back, beginning to explore our new topic, 'The Environment.' In English we watched some clips from the BBC Blue Planet 2 show to find out about the impact of plastics in our oceans. This generated a fantastic discussion where we identified lots of interesting questions, thoughts and vocabulary around plastic pollution. Following on from this we shared the book 'The Great Kapok Tree.' This introduced us to deforestation through the eyes of the animals and tribes that live in the Amazon rain forest and again we have had a super discussion identifying some of the devastating effects that deforestation can cause. We shall be continuing to look at these detrimental activities in order to write a persuasive letter to our Prime Minister, asking her to help us to reduce and prevent these disasters.
Friday 14th December 2018
Thank you to all our lovely parents who were able to join us in Saturn this morning to help the children create their Christmas cards and glitter balls. The children really enjoyed sharing their time with you. They have been learning the crafting art of quilling this morning in order to create their Christmas trees.
Thursday 13th December 2018
Today we all came into school wearing our Christmas jumpers or Christmas colours to help us raise some much needed funds for Save the Children. We had a lovely surprise visit from Father Christmas in the morning - he even brought all the children a Christmas present with him and we heard the magical sound of his reindeer's bells. I the afternoon we had lots of fun playing dancing games in the hall with Miss Lyons before enjoying a party feast. Thank you to all our parents who generously donated £1 to Save the Children and food for our party.
Monday 10th and Tuesday 11th December 2018
We have been having fun experimenting in science. We have carried on our investigations into materials, thinking about how materials can change over a period of time. We did this by creating slime and making volanoes! To create the slime we poured cornflour into a bowl and slowly added water. We put our hands in the slime and explored what happened when we handled it. We asked lots of questions. Is it a solid or a liquid? What happens if we squeeze it? Squash it? How was it different to water?
To create our volcanoes we made a mixture of, vinegar, baking soda, water, food colouring and fairy liquid. We predicted that if we add more vinegar or baking soda it will erupt more aggressively. We found that the volcano erupted more when vinegar was added but made no difference when we added baking soda.
3.12.18
This morning we arrived at school with the news that an sneaky Elf had been causing chaos in Saturn classroom. We read a newspaper report about the incident and Mrs Cooper told us all about what she had seen.
We looked at some of the features in the newspaper article, such as headline, introductory paragraph, facts, quotes and sources and a summing up paragraph.
We had a selection of newspapers made for children. In our teams we identified the features in each of them, placing them on the sugar paper next to the correct feature. We thought about what the purpose of each feature was and if we thought it was effective.
In the afternoon we spent time practising spelling some of our common exception words and topic words that we might need to use in our next piece of writing. We added them to our own dictionaries.
Friday 30th November 2018
We have had a morning of science investigations.
Following our exploration of a range of materials last week where we identified each material and discussed their possible uses, we were introduced to an investigation. We had to help find the most absorbent material to soak up spilt milk and water during snack times. We spent time planning our investigation and talking about how we could make it a fair test. After the investigation, we shared our results and discussed what might we could do to improve the investigation next time.
We then went on to test stretchy materials. We began by creating our own hypothesis, such as 'The smoothest piece of fabric is the stretchiest' and 'Dark fabrics always stretch more than the lighter ones'. We thought about which material would be best to make a new outfit for Miss Lyons to wear when teaching us dance. We stretched the pieces of material in both directions and diagonally and made our observations and tried to take measurements.
Tuesday 27th November 2018
Thank you Mrs Shamaela for arranging our fabulous Maths Problem Solving Day. We have all enjoyed thinking about maths in a different way, being resilient and persevering until we have solved the problem we were given. The children spent time in the computer suite this morning using their maths knowledge to play interactive games before having a workshop in the hall, where they used their knowledge of shape, patterns and number bonds to solve problems. This afternoon they have been working collaboratively to build the tallest tower out of sticks and solving other intriguing problems.
Monday 26th November 2018
Mrs Bicknell came to visit Neptune today. She showed us lots of lovely items that belonged to her Grandparents. Mrs Bicknell told us that both sets of Grandparents served in the war. Grandpa Thomas Baker was the officer in charge on a ship based in Norway. He was very lucky in the war, narrowly avoiding death because of the quick thinking of his fellow crew members covering him in ropes in the water.
Grandpa Phillip Newbury was a soldier based in Africa and spent two years as a prisoner of war. He was captured by Italian Soldiers and taken to Germany.
It was fantastic to hear the real life stories of Mrs Bicknell's Grandparents, we had a wonderful time looking at the items and asking her lots of questions.
Thursday 22nd November 2018 - Class Assembly and Evacuee Experience Day.
Thank you all for joining us for our class assembly this morning. I am so proud of the children as I'm sure all of you are too. They did an amazing job, especially after our last minute hic-cup of having no microphone, and I know they all thoroughly enjoyed themselves.
They looked amazing in their evacuee outfits and went on to enjoy experiencing some of the situations the children in World War 2 had to deal with. Mrs Nend came into our classroom as an Air Raid Warden. She explained the role of the warden and what people did when a siren went off. We learnt about what to do if someone was stuck under rubble or if a person was missing.
Monday 19th November - What a busy day we have had!
The beginning of our Diary of an Evacuee topic.
This morning, we read a range of diary entries written by children who were evacuated to the countryside during the second world war. Our focus was to explore the features of a diary entry and to explore emotive language. We displayed all of the emotive language and interesting vocabulary on our working wall so that we can use it when we are writing our own diary entries.
Then, after lunch we had our parent workshop.
Thank you to the parents who joined us for our class workshop this morning. We created gas mask boxes ready for our dress up day on Thursday.
Did you know?
Everyone in Britain was given a gas mask in a cardboard box, to protect them from gas bombs, which could be dropped during air raids.
What were the gas masks like?
The masks were made of black rubber, which was very hot and smelly. It was difficult to breathe when wearing a gas mask. When you breathed in the air was sucked through the filter to take out the gas. When you breathed out the whole mask was pushed away from your face to let the air out.
Friday 16th November
This morning we walked to the eco park to create a memorial garden with our poppies. We held a one minute silence to think about the sacrifice of so many brave men and women since the First World War.
Afterwards we continued our science learning from yesterday, finding as many different natural materials as we could and describing their properties. We found materials that were rough, smooth, flexible, rigid, shiny, cold, soft and hard
Thursday 15th November
Today we began our new science topic of 'Materials' by identifying as many as we could and thinking about their properties before sorting them into different groups. The children identified plastic, metal, fabric, cardboard, wood, glass, foam, cotton wool, stone, paper and marble. they described the properties as rigid, flexible, hard, soft, transparent, cold, stretchy, shiny, smooth, rough and fluffy.
Wednesday 14th November
Today we celebrated the school's 120th anniversary whilst also raising money for Children in Need. We came into school wearing spots, just like Pudsey's scarf, and gave a donation for this privilege. I'm sure you will agree that we all look superb. Thank you for your generosity with your donations.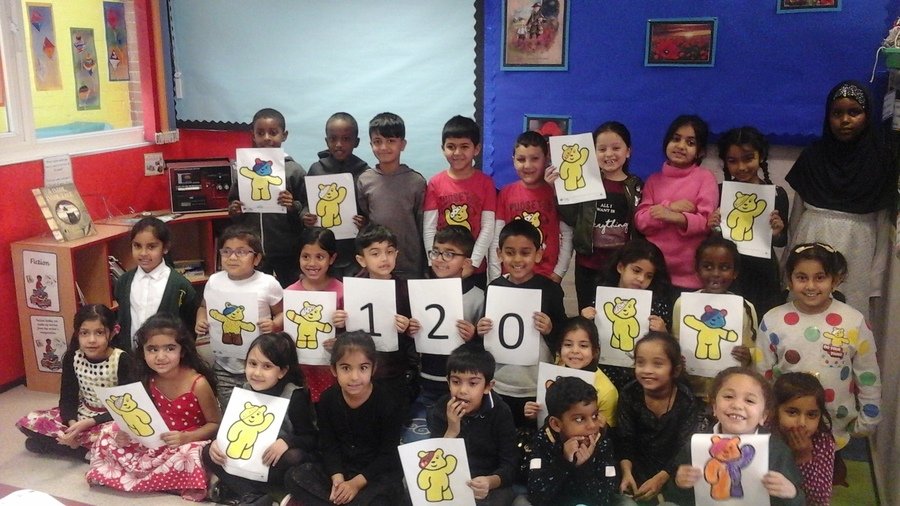 Monday 12th November.
Today we have been comparing past and present pictures of Small Heath. We have noticed lots of differences, can you?
9th November 2018
Today we finished painting our poppies that we had designed and created from clay earlier this week. Next Friday we shall be visiting the Eco Park with the rest of Year 2 to create our memorial to the brave servicemen and women who have died and fought to protect our country.
Thursday 8th November:
We have had a super day at the Birmingham Museum and Art Gallery. Our main focus was to find out about our local area and the effect on it of the World Wars. We spent lots of time looking at artefacts, listening to stories from local residents, reading about their experiences and even answering quizzes to extend our knowledge. After lunch we had time to explore other areas of the museum finding the exhibit on Ancient Egypt particularly fascinating.
26.10.18
Thank you for your generous contributions to our Harvest Box. All our boxes were designed around an animal and in Saturn we chose to create an owl box. All your donations will be going to support homeless people in Birmingham through the charity Sifa Fireside.
Thursday 25th October - Friday 26th October 2018 - Sleepover!
Well done to all of you who stayed over at school for fun, games, food and lots of time to enjoy socialising with your friends. You have all come back to school with more confidence.
Have a look at the fun we had!
23.10.18
Thank you to all of the parents who came to our bake sale and reading morning in aid of Birmingham Children's hospital. We are very grateful for your generosity.
Monday 22nd October 2018
What a fabulous afternoon we had at our parents workshop. We used our Talk4Writing instructions to make flapjacks ready for our bake sale tomorrow morning. Then we created posters to advertise the bake sale and let everyone in Saturn know that they can be bought at our reading morning for 50p, with all money raised going to Birmingham Children's hospital.
Thank you to all our lovely parents that were able to join us this time.
19.10.18
This week we have been working towards our fundraising event for Birmingham Children's Hospital. In our D&T lessons we have designed packaging to use with our flapjacks that will be made next week. First we looked at lots of packaging to identify the features that we needed to include ourselves, then we planned our own packaging. We used our cutting skills to carefully cut out our 'cuboid net' before transferring our designs to our finished product. The trickiest part was when we had to try to join the edges to create our box.
Monday 15th October 2018 - Instructions and art fun!
Today we read and followed instructions for our chosen creative activity. Rose cards were made in Mercury, leaf printing fun was in Neptune and glitter mobiles were made in Saturn. We looked at the heading, what we needed, the instructions and any tips to help us. We will use these ideas when writing our own instructions for our hot write.
12.10.18
We have had a fantastic week continuing our learning about Florence Nightingale. We were very lucky to have a visit from Mrs Nend who used to be a part of St John's ambulance. She taught us how to dress a burn, a wound and how to place someone in the recovery position. We learnt about how important it was to know what do to in an emergency situation.
We also had a visit from Birmingham Children's hospital, they told us all about the amazing work they do. We will be holding a bake sale in order to raise money for them!
Friday 5th October:
In science this week we thought about the question 'Which bird is the most popular in Small Heath?'. We discussed that in science the word popular does not mean which is our favourite but means which bird there is the most of. We decided to try to find out by making bird feeders using the favourite food of 5 birds that we have seen in Small Heath; robins, sparrows, blue-tits, pigeons and magpies. We found out that robins like mealworms, sparrows like sunflower seeds, blue-tits like peanuts, pigeons like seeds and magpies like fruit so we mixed these with fat before squashing into pine cones to create our own 'fat-balls'. Mrs Pearson hung them in different parts of the Eco-Park and today we went to see what had been eaten. We only found the fat balls with sunflower seeds left although there were remnants of the fruit fat balls on the bird table and ground nearby. Next week we will be discussing the results further and trying to finally answer our question.
Whilst we were at the Eco-Park we also took the opportunity to listen carefully to the bird calls, look out for any birds we might see in the trees or flying overhead and also to notice the changes taking place in nature around us by collecting as many different coloured leaves that had fallen from the trees as we could find. We also enjoyed a moment of mindfulness, standing peacefully and just watching these beautiful colours floating to the ground around us as they left the trees, carried on the breeze.
1st October - 5th October
Instructions: This week we have begun to learn our new text 'How to make Flapjacks.'
We have been learning our new Talk4Writing map (see below), looking more deeply at the features of an information text by finding examples of 'headings', 'hooks', 'what you need', 'instructions' and 'tips' sections in a variety of information texts. We have been practising giving our friends a set of precise instructions to follow to see if they could successfully change their shoes for their pumps. We even took the opportunity of our visit to the Eco-Park to practise following instructions to find our way around and to collect as many different colours as we could find in Autumn leaves.
Friday 21st September:
Roald Dahl Day
We had a lovely morning dressed up as Roald Dahl characters, raising money for charity. We had Matilda, Danny Champion of the World, George (George's Marvellous Medicine), Fantastic Mr Fox, The Grand High Witch (The Witches) to name but a few.
We found out about Roald Dahl and listened to the story of The Enormous Crocodile (some of the characters are shown below).
19.09.18
'Miss Nightingale' came to visit us today so that she could answer lots of questions that we had for her. She brought with her the medal she was awarded from Queen Victoria for her work in Scutari Hospital, a lamp and her sash that she had had made for all her nurses working at the hospital in Scutari.
The children had thought carefully about the questions they would like to ask. Here are just a few:
What do you like doing most at work because I would like seeing people get better most? How many soldiers were in the hospital?
Was you lamp heavy to carry? Why did you want to work as a nurse? Do you have lots of friends?
18.09.18 Florence Nightingale Role Play .
Today we imagined that we were Florence Nightingale and her nurses or the soldiers they cared for. We followed the journey that Florence and the 38 nursed took. First we travelled by horse-drawn coaches from London to Southampton (it was very bumpy and uncomfortable). before we got on a boat to France. We had to travel through France to get on another much smaller boat called The Vectis in Marseille to travel the rest of the way to Scutari. The sea was very rough and we were tossed and turned and soaked with water from the crashing waves. A lot of us felt sea-sick! The conditions in the hospital were terrible. When we arrived the stench from rats, human waste and disease was unbearable! The poor soldiers only had straw for a bed on the floor, rotting food to eat and dirty water to drink. Luckily Florence was helped by her nurses to clean the hospital and make the soldiers better, giving them fresh food and clean water as well as beds with clean sheets.
There is some more information about Florence Nightingale below:
Who was Florence Nightingale?
Florence Nightingale was a truly inspirational nurse.
Why is Florence Nightingale Famous?
Florence Nightingale is famous for her nursing work during the Crimean War (1854 - 56). She changed the face of
nursing from a mostly untrained profession to a highly skilled and well-respected medical profession with very
important responsibilities.
Crimean War
In 1854 Florence Nightingale was asked to go to Turkey to manage the nursing of British soldiers wounded in the
Crimean War (1854 - 56). She traveled to Scutari (the location where the wounded and ill soldiers of the Crimean War
were taken) to help the wounded soldiers.
She found the hospital conditions to be in a very poor state. Many of the wounded were unwashed and were sleeping in
overcrowded, dirty rooms without blankets or decent food. In these conditions diseases such as typhus, cholera and dysentery
spread quickly. As a result, the death rate amongst wounded soldiers was very high. Most soldiers died from infections and disease.
(Only one in six died from their war wounds; the other five in six died from infections and disease.)
Florence and her nurses changed these conditions. They set up a kitchen, fed the wounded from their own supplies and asked for help from the wives of the wounded. They were then able to properly care for the ill and wounded and the death rate among the soldiers dropped.
07.09.18
What a lovely start to the new school year we have had in Saturn. All the children came back looking very smart and were happy to be back with their friends and new teachers. They have all promised to work really hard this year but also to try and have lots of fun too.