Saturn
Welcome to the homepage for Saturn!
05.10.17
In year 2 we are now learning to write a set of instructions. Our new Talk4Writing maps below tell us how to make flapjacks. Please help your child to learn these instructions (I have again included the text to go with the maps below).
19.09.17 We have been learning the lovely story 'The Unstoppable Maggie McGee' in our English lessons, using the talk4writing maps below to help us.
Please spend some time sharing these with you child and encourage them to use the actions they have learned as they retell the story to you.
I have included a transcript of the text, to help support your child if they happen to forget a little part of it.
Beginning
I zoom back to Earth after another busy night in space… Before I even open my eyes, I know that today is a good day. We're finally going outside, into the garden. And if we're really lucky, we'll see Sol's bird.
Build up
I open my eyes and it is raining. NO! What about our garden trip? I am going to close my eyes and start today all over again… It is raining on the moon so that's where we're heading. Ready for lift off Sol?
Three… two… one… ''We're flying!'' Cheep, cheep cheeeeep!
problem
Beep, beep, beeeep! I open my eyes. Climbing and flying is hard work. '' Don't worry, Sol. We'll go back again later…''I must have slept for ages because Mom is here and Dad has to go. '' You won't see Sol's bird'' I say sadly.
resolution
Then Herb comes and cheers me up. A little while later, Mom calls ''The rain has stopped, we can go outside!'' Outside, Sol's eyes dance with excitement. Everyone waits. And waits. And then… Sol's bird perches on his lap.
ending
After Sol's bird flies off, a magic sound bubbles up from inside Sol. It is the sound of love and family and everything that is good. Soon it is bedtime and I am ready for my next adventure. Three…two…one…
13.09.2017
Roald Dahl Day
Wow, what fantastic Roald Dahl character costumes you all wore! I was really sorry to have missed seeing you all dressed up but it was great to hear all about the fun you had deciding what to wear and who to be.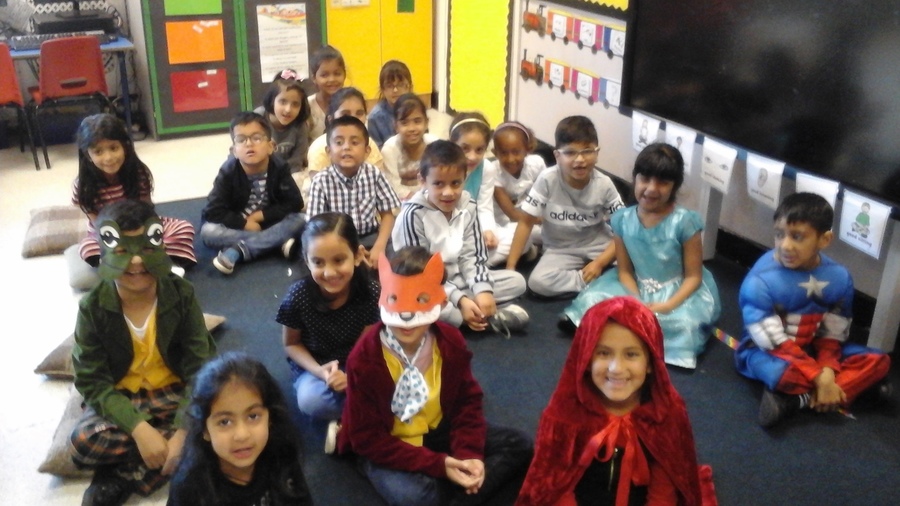 07.09.2017
Welcome to a brand new year!
What a lovely start to we made to Year 2 in Saturn classroom. We started this year having an art day, creating kite pictures based on the work of the artist Carol Thompson as a link to our topic 'Aim High.'The children learnt how to use chalk pastels to create their backgrounds; using a colour wheel they chose contrasting colours and then learnt to blend from a strong colour through to pale. To finish their pictures the children created block colour kites to attach to the foreground. We think our kite display is a great illustration of what we can achieve if we all 'Aim High.'