11th March 2019
British Science Week!
11th - 15th March 2019
This week Moons will be getting their investigative hats on as we jump straight in to British Science Week. We began the week with an assembly on Monday by Miss Roberts all about plastic pollution and talked about how important it is to
Reduce how much plastic we use,
Reuse plastic as much as we safely can and
Recycle any plastics that we have left over.
27th February 2019
Marlborough Infant and Nursery School Enterprise Day!
This afternoon we celebrated Enterprise Day with a selection of stalls all selling crafts and items made by the children in the school. Our families were kind enough to give us some money to spend so we were able to browse the stalls and decide what to buy. We invited children and staff from Marlborough Junior School to come along as well and even spotted Mr Simpson wearing a Reception-made pasta bracelet.
Many thanks and a huge well done to everyone who took part and made Enterprise Day such a success.
25th February 2019
Fun in the Sun!
Moons welcomed a little bit of winter sunshine today so we made the most of the nice weather and had fun exploring our shadows in the playground.
Did you know that no matter how fast you run your shadow will always keep up with you?
15th February 2019
Feeling Fruity!
Today in Moons we made delicious fruit smoothies with banana, strawberry, raspberry, blackberry and kiwi. We blended them together with a splash of milk and voila! Delicious, scrumptious fruity smoothies!
29th January 2019
We Are Scientists!
Today in our classroom we found blocks of ice in our tuff spot with natural materials frozen inside. We explored lots of different tools and techniques to get the items out of the ice. Take a look to see what we got up to.
18th January 2019
World Religion Day
Today we celebrated 'World Religion Day' in school. FS2 were tasked with learning all about Islam. We began by sharing everything we already knew about Islam - we talked about reading the Qu'ran at mosque, learning to read in Arabic, going to mosque to pray on Fridays and all about the wudu ritual of washing before praying. We spent the day writing about Islam, designing our own mosques, painting pictures of famous mosques around the world and making a large-scale crescent moon and star - the world recognised symbol for the religion of Islam. We also explored some real-life Islamic artefacts that Mrs Bibi brought in to share with us - including headscarves, taqiyahs, prayer beads and prayer mats. Some of the children enjoyed demonstrating how they use these in their day-to-day lives.
15th January 2019
Recycled Materials Workshop with Parents
We would like to thank all the parents who donated and attended our workshop today and made it such a success. The children have had a fabulous time creating something unique with your help and support and we look forward to our next round of parental workshops coming up soon.
For now, take a look at a few of our finished models.
11th January 2019
What's Going on?
We Were Totally In The Dark!
We arrived at school this morning to find a most unusual scene in our classroom - everything was in total darkness! No lights on, no daylight through the windows ... just a view out of a window at night on the screen and some very far away traffic sounds. We lit some candles and talked about what it felt like to be in total darkness. Through our discussion we came to realise that our new topic was all about 'Night Time', so we talked about and shared ideas of what we know about the Night Time.
10th December 2018
A Mystery Arrival
When we arrived at school on Monday morning, we found a very unusual sight. The lights were all out in our classroom and there was a parcel surrounded by lights in the middle of the carpet. We looked at the clues we could see and discussed what we thought had happened.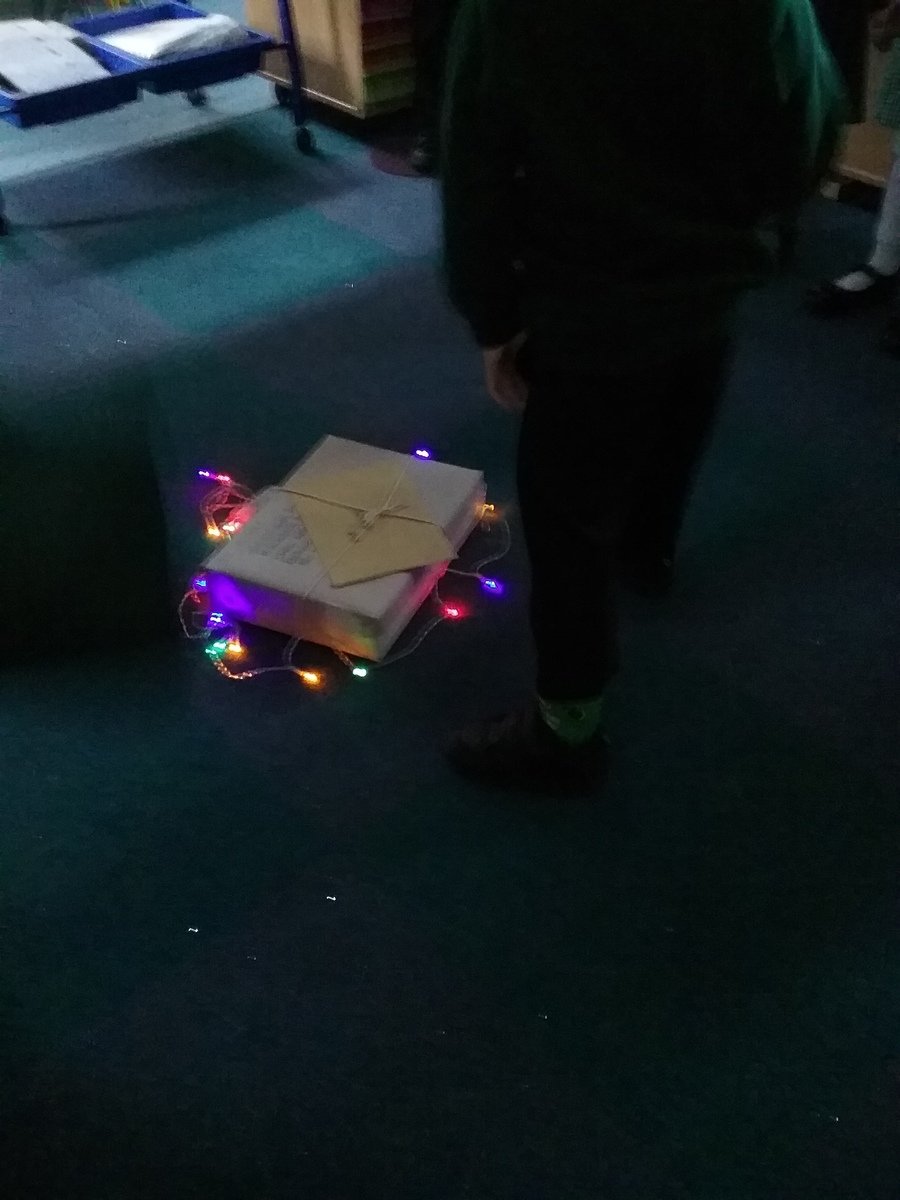 "Maybe the postman came"...
"Maybe it's magic"...
"Maybe Mrs Cooper bought a present for being good".
We opened the letter that came with our parcel to discover that our mystery package was from none other than Father Christmas himself, who had sent one of his elves to visit us.
"Be warned," the letter said, "he sometimes does silly things and can be a little bit naughty".
I think we may have to keep our eyes on this little fellow, don't you?
7th December 2018
Reading Buddies in Marlborough Junior School
On Friday morning, Moons went on an adventure to visit year 6 in the juniors and shared some story books with them. We had a wonderful time and have invited them to come and visit us soon so we can read together again. We can't wait to see all of our new friends next time!
27th November 2018
Maths Problem Solving Day
We had visitors into school from 'The Problem Solving Company' to set us some maths challenges today. We had a short amount of time to work in a team to complete the challenges set for us.
When we returned to our classrooms, we spent the day exploring lots of other interesting maths problem solving provision.
20th November 2018
A Police Investigation in Moons!
On Tuesday morning when we arrived at school our room was in chaos! There were books and cushions scattered all over the place and bowls and spoons on the floor. Someone had been in our classroom uninvited and we used all the clues to work out who - it had to be Goldilocks! We called the local police and PC Luke Cooper came in to investigate the crime scene and take witness statements and descriptions of the criminal.
5th November 2018
Goldilocks and The Three Bears
Our focus story for this half term will be Goldilocks and The Three Bears. Please take a look at this version of the story at home with your child by clicking the link below.
24th September 2018
The Three Little Pigs
Our focus story for this half term will be The Three Little Pigs. Please take a look at this version of the story at home with your child by clicking the link below.
5th September 2018
Our First Day At School!
On Wednesday we all came to our new FS2 class for the very first time. We were really excited about it, as you can see!
We had lots of fun playing in and exploring our new classrooms and made loads of new friends. Take a look at some of the things we got up to in the gallery below.